2019: #34 – Chimera (Mira Grant)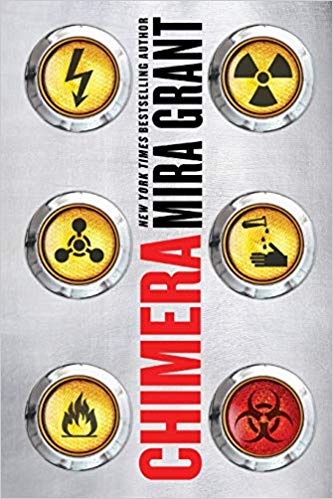 Chimera
by
Mira Grant
Series:
Parasitology #03
Published by
Orbit
on November 24, 2015
Genres:
medical thriller
,
science fiction
Pages:
496


Also by this author:
Parasite
,
Symbiont
Also in this series:
Parasite
,
Symbiont
The final book in Mira Grant's terrifying Parasitology trilogy.

The outbreak has spread, tearing apart the foundations of society, as implanted tapeworms have turned their human hosts into a seemingly mindless mob.

Sal and her family are trapped between bad and worse, and must find a way to compromise between the two sides of their nature before the battle becomes large enough to destroy humanity, and everything that humanity has built...including the chimera.

The broken doors are closing. Can Sal make it home?
Chimera is the mostly satisfying conclusion to the Parasitology trilogy. Who will win in this battle for the planet, the humans or the chimeras, or will the tapeworms wipe out them all?
Sal has once again found herself separated from her chosen family, this time with USAMRIID and Sally's family. Except 1/3 of that family is in a coma, 1/3 believes Sal holds the answers to waking her up, and the other 1/3 would rather just wipe Sal off the face of the planet. So Sal finds herself locked in quarantine with the other human (non-tapeworm implanted) survivors. Except some of these survivors are suddenly finding themselves infected and "turned".
Turns out Sherman's brilliant plan for turning the rest of humankind into chimeras isn't exactly working as expected. Can Sal make it back to her family, and will they find a way to save human-kind and chimera-kind, both?
I was mostly satisfied with how things wrapped up in this trilogy. There's a fair bit more action here (I read this much faster than the second one), and I enjoyed the settings created by the author, but sometimes there's a bit too much philosophizing by Sal. There are also a few unexpected twists and turns. Overall, I was happy I read these, though they don't quite live up to what the Newsflesh trilogy was.
Other reviews:
"The Parasite Trilogy was weird because it feels like a first-time book. If a new author wrote this, I'd say, "Well, this was loaded with horrible problems but there's also some great stuff so this is an up and coming writer to watch." But Grant isn't a first time writer. I don't want all her books to be the same (I'm not looking for a new version of Newsflesh) but I do feel like Grant set a high bar for herself, and this series falls way, way, way, way short." — Smart Bitches, Trashy Books
"If you love science, horror and philosophy, this series will absolutely blow you away with its pure detail of a scientific experiment gone wrong. It never ever skimps on character development, scientific methodology or the morality of different factions." — Happy Indulgence
"Chimera answers all of the questions raised throughout the trilogy in a satisfactory manner, and has all the elements I look for in a science-fiction. Grant has yet to disappoint me in anything she writes." — Nyx Book Reviews