2019: #36 – Dopesick (Beth Macy)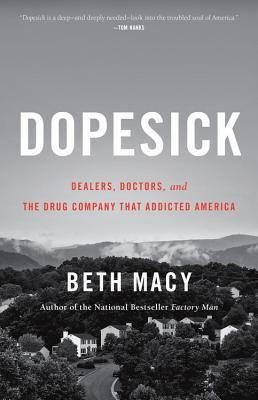 Dopesick: Dealers, Doctors, and the Drug Company that Addicted America
by
Beth Macy
Published by
Little, Brown and Company
on August 7, 2018
Genres:
journalism
Pages:
384


Also by this author:
Truevine: Two Brothers, a Kidnapping, and a Mother's Quest: A True Story of the Jim Crow South
Beth Macy takes us into the epicenter of America's twenty-plus year struggle with opioid addiction. From distressed small communities in Central Appalachia to wealthy suburbs; from disparate cities to once-idyllic farm towns; it's a heartbreaking trajectory that illustrates how this national crisis has persisted for so long and become so firmly entrenched.

Beginning with a single dealer who lands in a small Virginia town and sets about turning high school football stars into heroin overdose statistics, Macy endeavors to answer a grieving mother's question-why her only son died-and comes away with a harrowing story of greed and need. From the introduction of OxyContin in 1996, Macy parses how America embraced a medical culture where overtreatment with painkillers became the norm. In some of the same distressed communities featured in her bestselling book Factory Man, the unemployed use painkillers both to numb the pain of joblessness and pay their bills, while privileged teens trade pills in cul-de-sacs, and even high school standouts fall prey to prostitution, jail, and death.

Through unsparing, yet deeply human portraits of the families and first responders struggling to ameliorate this epidemic, each facet of the crisis comes into focus. In these politically fragmented times, Beth Macy shows, astonishingly, that the only thing that unites Americans across geographic and class lines is opioid drug abuse. But in a country unable to provide basic healthcare for all, Macy still finds reason to hope-and signs of the spirit and tenacity necessary in those facing addiction to build a better future for themselves and their families.
I thought this was a solid book about the opiate crisis, especially in the Appalachia area. In that way, it hit close to home — I live in the area and recognized many of the places she spoke about, and some of the events (like the TV weathermen who were outed as addicts). It's all a sad situation, and I can't say that this book offers much hope.
You get some of the history of how the crisis began and then pharmaceutical company's part in it, but more than that you get the stories of the people who are affected by it. Addicts, their families, their children, their dealers.
Probably the most important thing I got from this book was how frustrating it can be to find treatment when you are only finding success with MAT (medication assisted treatment). Many people and facilities don't consider you sober when you are taking suboxone or one of the other drugs that are meant to keep you from getting dopesick. Yet for many addicts, it seems to be their only way of staying clean — and the studies (at least the ones referred to in this book) agree. I wonder how many others could get clean and stay clean if they only had that option.
I've enjoyed Beth Macy's work in the past, and I look forward to seeing what she comes out with next.
Other reviews:
"So I heartily recommend this book to anyone interested in this topic. Even if you aren't interested, it's so well-written that it will entertain you. I particularly appreciate the author's talent at describing so many facets of this opioid epidemic and the obvious scope of her research." — Janaburson's Blog
"Macy is certainly not the first to write about the opioid crisis, but she does bring a new level of humanity to a story that is too often carelessly splashed across headlines and just as easily dismissed and Dopesick, if it does nothing else, forces us to revise our image of what an addict actually looks like." — A Thin Slice of Anxiety
"This book showed me how some opioids made into it into the hands and veins of people who you'd never guess would take drugs. It shed light on how drug companies pushed drugs into the hands of doctors who addicted America." — Miss Kristine's Reviews