2021: #6 – Truevine (Beth Macy)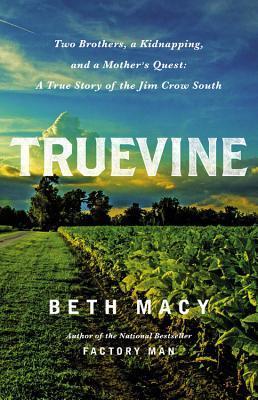 Truevine: Two Brothers, a Kidnapping, and a Mother's Quest: A True Story of the Jim Crow South
by
Beth Macy
Published by
Little, Brown and Company
on October 18, 2016
Genres:
history
,
non-fiction
Pages:
420


Also by this author:
Dopesick: Dealers, Doctors, and the Drug Company that Addicted America
The true story of two African-American brothers who were kidnapped and displayed as circus freaks, and whose mother endured a 28-year struggle to get them back.

The year was 1899 and the place a sweltering tobacco farm in the Jim Crow South town of Truevine, Virginia. George and Willie Muse were two little boys born to a sharecropper family. One day a white man offered them a piece of candy, setting off events that would take them around the world and change their lives forever.

Captured into the circus, the Muse brothers performed for royalty at Buckingham Palace and headlined over a dozen sold-out shows at New York's Madison Square Garden. They were global superstars in a pre-broadcast era. But the very root of their success was in the color of their skin and in the outrageous caricatures they were forced to assume: supposed cannibals, sheep-headed freaks, even "Ambassadors from Mars."

Back home, their mother never accepted that they were "gone" and spent 28 years trying to get them back. Through hundreds of interviews and decades of research, Beth Macy expertly explores a central and difficult question: Where were the brothers better off? On the world stage as stars or in poverty at home?

Truevine is a compelling narrative rich in historical detail and rife with implications to race relations today.
Truevine is the story of the Muse brothers, African American albino boys who were taken into the sideshow/circus world in the early 1900s. But it's also the story about the history of circuses and sideshows and the ways some of them worked, with a dusting of information of what living in the Roanoke Valley as an African American was like then.
I thought it was an interesting story, despite there being large swaths of time where it's not known exactly what the brothers were doing or how they were being treated. They were separated from their family for over 10 years involuntarily, but later went back to work there because there was little else two men who looked like them and suffered some of the medical problems of albinism could do to make money. I did find it admirable that their mother worked so hard to make sure the brothers were compensated, having to track them down time and time again to see that they were paid their fair share, even if they had to get them declared mentally incompetent to do it.
I do think this is the weakest of Macy's 3 books, perhaps because there was so little verified information about the Muses to work with. The timeline jumps around a lot and the story is riddled with uncertainties about whether this or that really happened. But overall I enjoyed the story of the Muse brothers.
(Side note: I DNF'd this the first time I read it because I had a hardcover copy and that just doesn't fit my reading style anymore. But I completed it on audiobook and thought the production was good.)
I read this for the following reading challenges:
Other reviews:
"Despite never having met those about whom she writes with such admiration, Macy is proud of the Muses, to the point of defensiveness. Whilst acknowledging George and Willie would have had at least some arrested social development owing to their traumatic circumstances, she bristles at the frequent insinuations that the brothers were mentally deficient. 'Truevine' is nonetheless not an unmitigated homage." — I was just thinking…
"This is one of those books that works to keep those stories we'd rather forget, alive. It's important to remember them." — The Paperback Princess