2021: #34 – The Alice Network (Kate Quinn)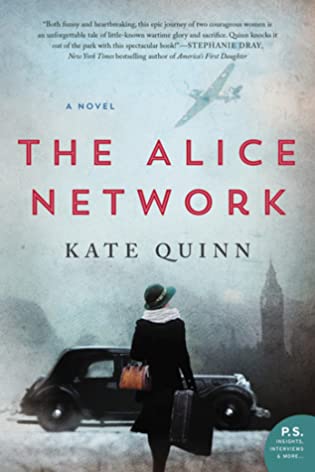 The Alice Network
by
Kate Quinn
Published by
William Morrow Paperbacks
on June 6, 2017
Genres:
historical fiction
,
hf - Post-WWII
,
hf - World War II
Pages:
503


In an enthralling new historical novel from national bestselling author Kate Quinn, two women—a female spy recruited to the real-life Alice Network in France during World War I and an unconventional American socialite searching for her cousin in 1947—are brought together in a mesmerizing story of courage and redemption.

1947. In the chaotic aftermath of World War II, American college girl Charlie St. Clair is pregnant, unmarried, and on the verge of being thrown out of her very proper family. She's also nursing a desperate hope that her beloved cousin Rose, who disappeared in Nazi-occupied France during the war, might still be alive. So when Charlie's parents banish her to Europe to have her "little problem" taken care of, Charlie breaks free and heads to London, determined to find out what happened to the cousin she loves like a sister.

1915. A year into the Great War, Eve Gardiner burns to join the fight against the Germans and unexpectedly gets her chance when she's recruited to work as a spy. Sent into enemy-occupied France, she's trained by the mesmerizing Lili, code name Alice, the "queen of spies", who manages a vast network of secret agents right under the enemy's nose.

Thirty years later, haunted by the betrayal that ultimately tore apart the Alice Network, Eve spends her days drunk and secluded in her crumbling London house. Until a young American barges in uttering a name Eve hasn't heard in decades, and launches them both on a mission to find the truth...no matter where it leads.
The Alice Network is a dual-timeline story about two women.
In 1947 we have Charlie, an American college girl who is visiting Europe with her socialite mother in order to get a secret abortion. Except Charlie has other plans. Her French cousin Rose disappeared during World War II, and Charlie is determined to find out what happened to her. All she has to go on is the name of another woman: Eve Gardiner.
In 1915, Eve is a young girl who is recruited to work as a spy for the British in France during World War I. She spends her days working as a waitress in a German-friendly restaurant, hoping to overhear plans she can pass on.
Ultimately, the war breaks Eve in more ways than one, and when Charlie finds her she is nothing more than a cranky drunk, content to just exist for the rest of her days. But Charlie's story and the lights a spark in her, and together, with Eve's driver Finn, they set out to find out what happened to Rose.
This was the first Kate Quinn book I've read, and I really enjoyed it. Charlie and Eve's stories were woven together well, and along the way I learned a little bit about this very real spy network and what it was like to live in German-occupied France during both wars.
I read this for the following reading challenges:
Other reviews:
"I would definitely recommend The Alice Network, it is a beautifully written book with some really great characters and history. It was easy reading considering the subject matter and I flew through it, I was so gripped and thrilled with it. Definitely a great book and so much history." — The Book Blog Life
"Why you should try it : Historical fiction with an easily digestible yet polished writing style. Two distinct storylines, one during WW1 and another during WW2 star very contrasting main characters. Blends general fiction, espionage, and light romance in what I think is a broadly appealing way. The more pressing plot lines are wrapped up nicely with a thrilling climax." — Kitty Marie's Reading Corner
"This is an easy 5 star review. While there were elements that weren't my favorite and things I would have changed, it wasn't substantial enough for my to rate it lower than 5 stars. This was a fantastic novel and I would highly recommend it—especially for book clubs. I thought Eve's profession and choices would make for a great group discussion." — The Lit Bitch