2020: #30 – The Book of Strange New Things (Michel Faber)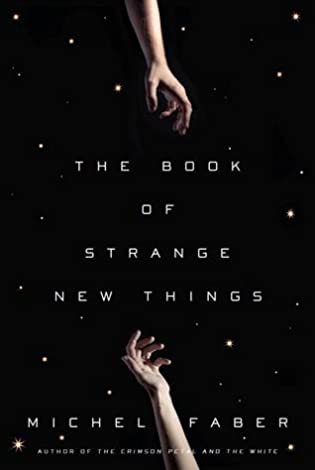 The Book of Strange New Things
by
Michel Faber
Published by
Hogarth
on October 6, 2014
Genres:
science fiction
Pages:
500


A monumental, genre-defying novel over ten years in the making, Michel Faber's The Book of Strange New Things is a masterwork from a writer in full command of his many talents.

It begins with Peter, a devoted man of faith, as he is called to the mission of a lifetime, one that takes him galaxies away from his wife, Bea. Peter becomes immersed in the mysteries of an astonishing new environment, overseen by an enigmatic corporation known only as USIC. His work introduces him to a seemingly friendly native population struggling with a dangerous illness and hungry for Peter's teachings—his Bible is their "book of strange new things." But Peter is rattled when Bea's letters from home become increasingly desperate: typhoons and earthquakes are devastating whole countries, and governments are crumbling. Bea's faith, once the guiding light of their lives, begins to falter.

Suddenly, a separation measured by an otherworldly distance, and defined both by one newly discovered world and another in a state of collapse, is threatened by an ever-widening gulf that is much less quantifiable. While Peter is reconciling the needs of his congregation with the desires of his strange employer, Bea is struggling for survival. Their trials lay bare a profound meditation on faith, love tested beyond endurance, and our responsibility to those closest to us.

Marked by the same bravura storytelling and precise language that made The Crimson Petal and the White such an international success, The Book of Strange New Things is extraordinary, mesmerizing, and replete with emotional complexity and genuine pathos.
Many years ago, I read The Crimson Petal and the White and fell in love with Michel Faber's writing. I finally picked up this book, and it couldn't be more different in subject matter.
That's not a bad thing! This was sort of a crazy read, but it wasn't unpleasant. Peter is a pastor who has been chosen by a company called USIC to travel to a distant solar system and minister to a colony of aliens there (are they actually aliens if we're on THEIR planet?). The previous pastors have sort of disappeared, but the colony really wants to learn about The Book of Strange New Things (the Bible), and the humans need to keep them happy in order to survive in this strange new land.
If you don't like reading about religion and scripture, this book is not for you. I confess I did a good bit of skimming at times, through Peter's religious musings. But the story beneath the religion is interesting. Peter is quite sanctimonious, possibly due to him being "born again" after a past full of drug abuse and homelessness. He manages to keep this mostly in check when talking to other USIC employees, but his poor wife Bea, stuck back on Earth, really bears the brunt of it. She is going through a hard time, and often receives only scripture in return from Peter. This is understandably maddening. It's also interesting to see what happens to Peter over time, how he manages to fold himself into the Oasan community, living happily with them, almost becoming one of them. You have to wonder, is this how he became a pastor? Is he just good at assimilating to his environment?
The stuff happening to Bea back home was the most interesting to me. Honestly, I got real 2020 vibes out of it, as things in her world just seem to get worse and worse.
Don't expect a whole lot of resolution at the end of the story. I think it ended in a good place, but you don't exactly get a bunch of answers.
This book was not at all what I expected, but I am still glad I read it. I definitely will think about it for a long time.
I read this for the PopSugar Reading Challenge this year — this book fulfilled the "book with a made-up language" prompt.
Other reviews:
"As with The Crimson Petal and the White (a book that this book couldn't be more different from, again), Faber takes you far away from where you are. You read and you are in the book. When you stop, when you're interrupted say, you emerge blinking and dozy. All told, it's a brilliant and unique reading experience and we are glad that we had it." — Bookmunch
"There is so much more I would like to praise about The Book of Strange New Things—the gorgeous and often heartbreaking efforts to wed spirituality and bodily experience, the tact and complexity with which both Peter's faith and doubts are handled, the sheer imaginativeness of the alien world Faber constructs." — Reading in the Growlery
"While Faber's latest novel has more in common with 'Under the Skin' in terms of genre than 'The Crimson Petal and the White', all three books are so different and yet equally brilliant in their own way. 'The Book of Strange New Things' is truly epic in scale yet compulsively readable and is definitely one of my top books of 2014." — A Little Blog of Books