2020: #9 – He Said/She Said (Erin Kelly)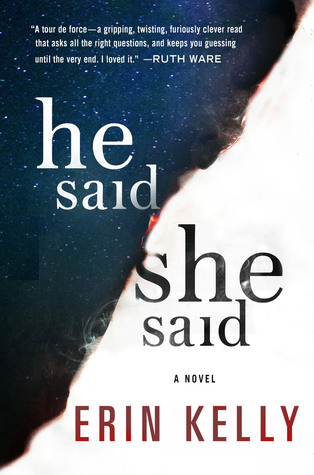 He Said/She Said
by
Erin Kelly
Published by
Minotaur Books
on June 6, 2017
Genres:
psychological thriller
Pages:
392


In the summer of 1999, Kit and Laura travel to a festival in Cornwall to see a total eclipse of the sun. Kit is an eclipse chaser; Laura has never seen one before. Young and in love, they are certain this will be the first of many they'll share.

But in the hushed moments after the shadow passes, Laura interrupts a man and a woman. She knows that she saw something terrible. The man denies it. It is her word against his.

The victim seems grateful. Months later, she turns up on their doorstep like a lonely stray. But as her gratitude takes a twisted turn, Laura begins to wonder—did she trust the wrong person?

15 years later, Kit and Laura are living under assumed names and completely off the digital grid: no Facebook, only rudimentary cell phones, not in any directories. But as the truth catches up to them, they realize they can no longer keep the past in the past.
Laura and Kit are a young married couple, expecting their first children, who have been on the run for years. They have changed their names, they stay off social media, they don't do things that draw attention to them, all to escape the notice of their stalker.
Except there is one thing they can't resist — a total solar eclipse. Kit has been following the eclipses since he was child, and he's not going to stop now. Even though it was something the two of them witnessed during an eclipse that has led to how they live now. This eclipse will take him away from Laura, to a remote island — surely their stalker couldn't find him there?
I don't want to give away too many details, because part of the pleasure of this book is the way things are unraveled and revealed. The point of view changes between Laura and Kit and between the present and the past. There's a nice twist at the end that I wasn't really expecting.
This isn't a fast read, but if you like a psychological thriller, this one is worth your time.
I read this for the PopSugar Reading Challenge this year — this book fulfilled the "book recommended by your favorite blog, vlog, podcast, or online book club" prompt.
Other reviews:
"Overall, I highly recommend this novel to those of you who enjoy Psychological Thrillers, particularly those of you who enjoy reading courtroom dramas and references to crimes. The novel really puts into perspective the debilitating effects of such a horrendous crime, and how it can negatively affect the victim, and others, years later." — the Bookworm's Fantasy
"I think this could have been good but to me focusing the story on the different parts of an eclipse, just made the plot of the book seem like it was all over the place." — Divine World of Books
"There were things that I liked in this novel but the ending was such a bummer for me. Many readers may find the ending to be a brilliant, shocking gotcha, but in all honesty, what happened cheapened some of the character development but some of it was also entirely unbelievable, both in reality and in the context of the novel." — Reading Books Like a Boss