2020: #31 – All the Bright Places (Jennifer Niven)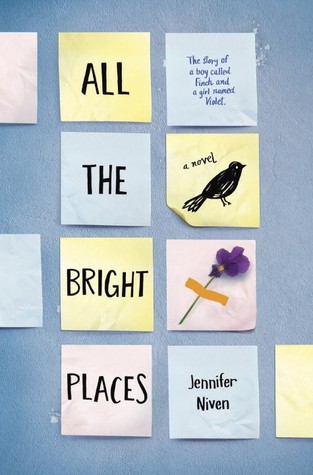 All the Bright Places
by
Jennifer Niven
Published by
Knopf
on January 6, 2015
Genres:
y/a contemporary
Pages:
378


Theodore Finch is fascinated by death, and he constantly thinks of ways he might kill himself. But each time, something good, no matter how small, stops him.

Violet Markey lives for the future, counting the days until graduation, when she can escape her Indiana town and her aching grief in the wake of her sister's recent death.

When Finch and Violet meet on the ledge of the bell tower at school, it's unclear who saves whom. And when they pair up on a project to discover the "natural wonders" of their state, both Finch and Violet make more important discoveries: It's only with Violet that Finch can be himself—a weird, funny, live-out-loud guy who's not such a freak after all. And it's only with Finch that Violet can forget to count away the days and start living them. But as Violet's world grows, Finch's begins to shrink.

This is an intense, gripping novel perfect for fans of Jay Asher, Rainbow Rowell, John Green, Gayle Forman, and Jenny Downham from a talented new voice in YA, Jennifer Niven.
Two teenagers with depression and suicidal urges meet on the ledge of a bell tower. What could go wrong?

Theodore Finch (goes by Finch) and Violet Markey knew who each other were before this fateful meeting, but they didn't really travel in the same circles. But Finch, who likes to spend a good part of each day imagining how he could die, sees a bit of his struggle in Violet, and decides that he's going to pull her under his wing, so to speak. What follows is the roller coaster of their friendship and relationship, as they work on a school project that takes them to the undiscovered treasures of Indiana.

Finch and Violet are almost two sides of the depression coin. Finch's illness is more chronic, perhaps even bipolar (there's never a definitive answer to that), while Violet's depression is more situational, following the death of her sister. I think the ups and downs in the story were a good representation of how unpredictable this illness can be.

I felt bad for both teens, who were direly in need of attention and intervention from their parents. Violet's parents are at least putting in an effort, but Finch's parents might as well not even be there.

I think this was a worthwhile read, but I don't think I would have picked it up myself if my book club wasn't reading it for Banned Book month.
I read this for the PopSugar Reading Challenge this year — this book fulfilled the "read a banned book during Banned Books Week" prompt.
Other reviews:
"'Sometimes its the happiest people that are the saddest.' This quote by Robin Williams speaks to true for this book. Finch helps Violet overcome some of her difficulties while trying to cope the loss of her sister. But Violet doesn't see how much help Finch needs." — The Bookish Elf
"As I said previously, YA Fiction is not my preferred genre to read, but I thought this book was just exceptional. It reminded me that even though you may be broken or be suffering on the inside, you are still worthy of love and affection – a message which I believe is so important." — The Bookworm's Fantasy
"I adore the rawness and richness of Finch's emotions and his multiple personas: tenderhearted Theodore, '80s vegetarian Finch and bad ass British Finch. I like the fact that he and Violet tried to fight their sadness (although that is already expected of them)." — MXCAREYES book blog