2020: #32 – State of the Onion (Julie Hyzy)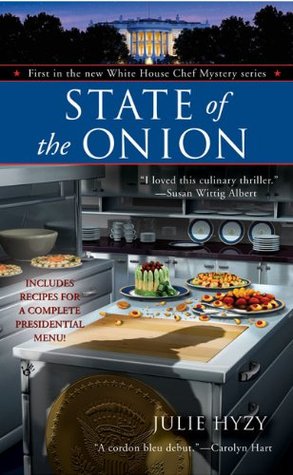 State of the Onion
by
Julie Hyzy
Series:
White House Chef Mystery #01
Published by
Berkley Books
on January 1, 2008
Genres:
cozy mystery
Pages:
325


Also by this author:
Hail to the Chef
Also in this series:
Hail to the Chef
Introducing White House Assistant Chef Olivia Paras, who is rising-and sleuthing-to the top.

Includes recipes for a complete presidential menu!

Never let them see you sweat-that's White House Assistant Chef Olivia Paras's motto, which is pretty hard to honor in the most important kitchen in the world. She's hell-bent on earning her dream job, Executive Chef. There's just one thing: her nemesis is vying for it, too. Well, that and the fact that an elusive assassin wants to see her fry.
The star of this cozy mystery is Olivia (Ollie) Paras, a chef in the White House kitchen. She's on her way back from lunch one day when she gets caught up in some Secret Service activity. A mysterious man is outrunning the service, yelling about needing to warn the President, until he runs into the back-end of the skillet Ollie is holding. At this point she should have just gone on her way and minded her own business, but when it starts to look suspiciously like the Secret Service (including her boyfriend, Tom) are covering up what really happened, she can't keep herself from digging in further.
Ollie knows her way around the kitchen, but outside of it she's not a particularly good sleuth, mostly getting herself into unpleasant situations. But would it be a cozy mystery otherwise? I enjoyed Ollie and her fellow chefs in the kitchen, and liked seeing a little of what goes into feeding the First Family. It's a series I won't mind continuing.
I read this for the PopSugar Reading Challenge this year — this book fulfilled the "book with a pun in the title" prompt.
Other reviews:
"I found my feelings mixed after reading. The best parts were where we got a look in at the kitchen and behind the scenes of the White House. But this is at its heart a mystery and on that count, it lacked." — Reads & Knits
"Before I started this, I thought I was done liking cozy mysteries– the quirkiness can't save them for me anymore because of how silly the person getting involved in a mystery seems, but this book has reignited my affection for the genre." — Books in Her Eyes
"The uniqueness of this setting offers a lot of scope for interesting stories and there's enough of the traditional romantic cosy elements to satisfy readers who aren't so interested in politics. Personally I'd like to see a little more humour in the writing but I might be in the minority." — Reactions to Reading