2006: #80 – Strip Tease (Carl Hiaasen)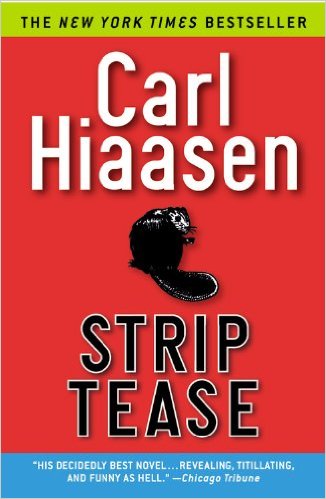 Strip Tease
Comedic Fiction
Grand Central Publishing
March 1, 2005
464

Congressman David Dilbeck has a bad problem. "I should never," he says, "be around naked women." But he just can't stay away. And late one night, at a gaudy Fort Lauderdale strip joint, Dilbeck loses control. He leaps onto the stage with the performers and proceeds to demonstrate his affections in a most unconventional way. The congressman barely escapes the scene, but not before being recognized by an odd little customer known as Mr. Peepers - an unlikely blackmailer, but (it turns out) a cunning one. To save himself from an election-year sex scandal, David Dilbeck desperately turns to Malcolm "Moldy" Moldowsky, a devious and cold-blooded political fixer. It is Moldy's mission to protect the congressman's reputation, shaky as it might be, and soon the stakes are murderously high. Meanwhile, the lust-struck Dilbeck secretly pursues the current woman of his dreams, a formidable nude dancer named Erin Grant. She has her own special plans for the wayward politician. The chase leads from the staid corridors of Congress to the sweltering cane fields of Lake Okeechobee, from a topless wrestling pit to a sunken Guatemalan banana boat. It's a manically inventive and suspenseful tale that resonates with the furious intelligence, merciless characterization and savage good humor that we've come to expect from Carl Hiaasen. "He is so good," says Donald Westlake, "he ought to be illegal." In Strip Tease, Hiaasen is better than ever.

Book #80 was Strip Tease, by Carl Hiaasen.
I spent several weeks listening to this on my way home in the evenings. This was a great book to listen to. I'm going to have to look for more Hiaasen books in audio, because they're perfect. They're light and funny and the plots aren't so convoluted that you have a hard time following what's going on. The characters are colorful and interesting and unique. I thought this was really good.
Book count: 80
Pages in book: 418
Page count: 34,113
Words in book: 117,642
Word count: 10,100,413
1,000,000 words surpassed – 2/2/06
2,000,000 words surpassed – 2/14/06
10,000 pages surpassed – 3/10/06
3,000,000 words surpassed – 3/16/06
4,000,000 words surpassed – 4/3/06
5,000,000 words surpassed – 5/30/06
50 books surpassed – 6/12/06
20,000 pages surpassed – 6/29/06
6,000,000 words surpassed – 6/29/06
7,000,000 words surpassed – 7/21/06
8,000,000 words surpassed – 8/18/06
30,000 pages surpassed – 9/3/06
9,000,000 words surpassed – 9/6/06
10,000,000 words surpassed – 9/27/06