2021: #8 – The Obelisk Gate (N.K. Jemisin)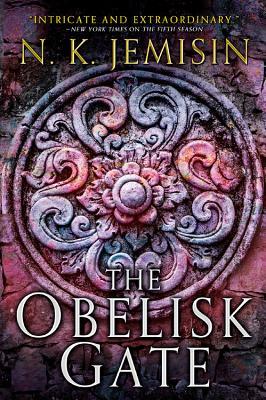 The Obelisk Gate
by
N.K. Jemisin
Series:
The Broken Earth #02
Published by
Orbit
on August 16, 2016
Genres:
high/epic fantasy
Pages:
413


Also by this author:
The Fifth Season
,
How Long 'til Black Future Month?
Also in this series:
The Fifth Season
This is the way the world ends... for the last time.

The season of endings grows darker as civilization fades into the long cold night. Alabaster Tenring – madman, world-crusher, savior – has returned with a mission: to train his successor, Essun, and thus seal the fate of the Stillness forever.

It continues with a lost daughter, found by the enemy.

It continues with the obelisks, and an ancient mystery converging on answers at last.

The Stillness is the wall which stands against the flow of tradition, the spark of hope long buried under the thickening ashfall. And it will not be broken.
This second book in the Broken Earth Trilogy doesn't pack the same punch as the first one, but it is still quite good.
Essun now lives in the underground settlement of Castrima. She still wants to find her daughter Nassun, but the oncoming Season makes this nearly impossible. But in Castrima she has found Alabaster, the man who broke the world, who was her teacher, and her lover. And he is determined to teach Essun what she must do to save everyone.
But also in this book we finally meet Nassun. We see what happens between her and her father Jija, and we get to see her learn more about herself and what she is capable of. After all, she is her mother's daughter.
Where in the first book we're really only introduced to Fulcrum-trained orogenes, in this one we get to see what it is like for those who had to learn what they are capable of on their own. It is a rather slow moving story until you get near the end, but I thought it was a really good listen. I'm curious to see how it wraps up in the next book.
I read this for the following reading challenges:
Other reviews:
"Even so I did really enjoy returning to this book and these characters. I love Essun. She can struggle so much to communicate with people and can come across as some kind of scarecrow sometimes I think. But I like that about her. She makes me smile. Her relationship with Alabaster was very interesting to see." — A Dance With Books
"In many ways The Obelisk Gate is a more intimate book than The Fifth Season, but that sense of intimacy is fooling us because what it really does is to hide its monumental shifts under a guise of stillness." — The Book Smugglers
"Honestly, this book has changed how I feel about The Fifth Season entirely. All the set up and twists we get in the first book are revealed and deepened in this volume. The POV style that Jemisin chooses makes sense and I have become much more accustomed to the second person POV in this book, thanks to the first." — Pyles of Books