2021: #73 – Hidden Bodies (Caroline Kepnes)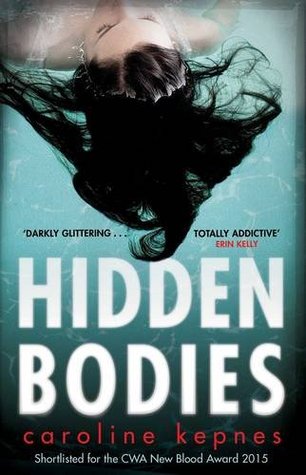 Hidden Bodies
by
Caroline Kepnes
Series:
You #02
Published by
Simon & Schuster Ltd
on June 16, 2016
Genres:
thriller
,
psychological thriller
Pages:
439


Joe Goldberg is no stranger to hiding bodies. In the past ten years, this thirty-something has buried four of them, collateral damage in his quest for love. Now he's heading west to Los Angeles, the city of second chances, determined to put his past behind him.

In Hollywood, Joe blends in effortlessly with the other young upstarts. He eats guac, works in a bookstore, and flirts with a journalist neighbor. But while others seem fixated on their own reflections, Joe can't stop looking over his shoulder. The problem with hidden bodies is that they don't always stay that way. They re-emerge, like dark thoughts, multiplying and threatening to destroy what Joe wants most: true love. And when he finds it in a darkened room in Soho House, he's more desperate than ever to keep his secrets buried. He doesn't want to hurt his new girlfriend—he wants to be with her forever. But if she ever finds out what he's done, he may not have a choice…
This book could be subtitled "Joe goes to Hollywood". After taking care of his Beck problem in the first book, Joe has found himself another girl. He's deliriously happy — until she does him wrong and flees to Los Angeles. What else could your intrepid stalker/murderer do, but track her down and get his revenge?

I highly recommend the audio version of this book, because I think it really helps you get onto the emotional roller coaster in Joe's brain. He can spin from happy to furious back to happy in an instant, and the narrative really requires you to give yourself over to it. I enjoyed this as much as the first one, and look forward to catching up on the second season of the show.
I read this for the following reading challenges:
Other reviews:
"Much like YOU, Hidden Bodies is an intriguing look into the mind of someone like Joe. I found his character progression really fascinating. While Joe has always been smart, Kepnes manages to portray the highs and lows of his mental state to the point where you can never quite tell what's going to happen. Is Joe going to be his own undoing? Is his past going to catch up with him? Is he going to manage to evade being found out again? It's almost impossible to tell until the very end, which accounts for the book's fast pace." — Book. Blog. Bake.
"Hidden Bodies isn't a deep, thought-provoking novel–it's a fun continuation of one. And though I usually hate sequels, and though You was perfectly fine as a standalone, I enjoyed Hidden Bodies where most people didn't. I love Joe's character, I love his messed up life, and I love Kepnes's writing style. This is actually a sequel I recommend." — Read 'em and Weep
"If you're on the fence about this one, since it has gotten a lot of mixed reviews, my biggest suggestion to you is to pick up the audiobook. The narrator is absolutely fantastic and truly brings Joe to life! I will continue to pick up anything and everything Caroline Kepnes creates! She has an amazing talent and her stories are always keeping me on my toes!" — What Jess Reads