2021: #55 – The Flatshare (Beth O'Leary)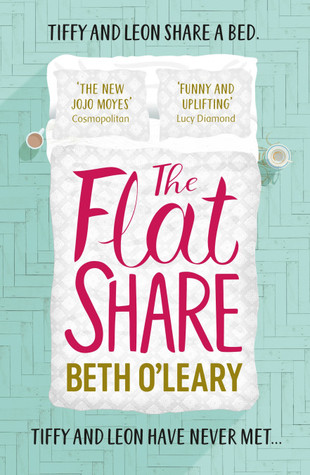 The Flatshare
by
Beth O'Leary
Published by
Quercus
on April 18, 2019
Genres:
contemporary romance
Pages:
394



Tiffy and Leon share a flat
Tiffy and Leon share a bed
Tiffy and Leon have never met…

Tiffy Moore needs a cheap flat, and fast. Leon Twomey works nights and needs cash. Their friends think they're crazy, but it's the perfect solution: Leon occupies the one-bed flat while Tiffy's at work in the day, and she has the run of the place the rest of the time.

But with obsessive ex-boyfriends, demanding clients at work, wrongly imprisoned brothers and, of course, the fact that they still haven't met yet, they're about to discover that if you want the perfect home you need to throw the rulebook out the window…
This was a delightful contemporary romance that made for an enjoyable audiobook!
Tiffy has broken up with her on-again, off-again boyfriend for (hopefully) the last time, but she needs a place to live, and she needs it to be cheap. Leon is looking for someone to share his flat (and his bed) so he can make a little extra money to help his brother in jail. He is a nurse that works nights and spends his weekends with his girlfriend, so he never even has to see this person. By the time he gets home from work, she'll be out the door to hers.
But when you're sharing a space with a stranger, you're still going to need to communicate with each other. Tiffy and Leon do this by leaving each other post-it notes that cover everything from "who is the weird neighbor upstairs?" to "I left you some dinner in the fridge". Through these notes they start to get to know each other, despite their best efforts.
I really liked both Tiffy and Leon. They felt like real characters, with blind spots and flaws. Their discourse back and forth was cute and fun to read. They get themselves into some scrapes, but they grow through it. There were some colorful supporting characters. Leon and Tiffy narrate their own chapters, and O'Leary does a great job of giving each of them their own voice. Leon's is very stream of consciousness, which worked great on audio but maybe less-so in print (I ended up needing to finish the last few chapters in e-book form).
I haven't read Beth O'Leary before, but I will definitely be adding other books she's written to my list.
I read this for the following reading challenge:
Other reviews:
"This is stereotypic British fiction, in which we have these over-exaggerated characters, extremely cringey dialogue, and 'jokes' in every single line of the book. My very first note in this book says, 'British humour galore' because that is what slaps you in the face when you first open this book." — daisy chains & headspace
"In The Flatshare, O'Leary skilfully balances humour with tact and gravitas, while depicting the impact fear and anxiety can have on the best of us. It acknowledges bad things happening to good people and reminds us of the value and poignancy in the little things… even companionable silence." — Booklover Book Reviews
"What I loved about this book was that is was raw and had some hard-hitting issues and whilst they were dealt with using a lot of compassion, there were also lots of hilarious moments to keep you smiling too. I adored the notes the two left for one another and I would happily have read a book just filled with their back and forth post-its." — Whispering Stories