2021: #57 – Darling Rose Gold (Stephanie Wrobel)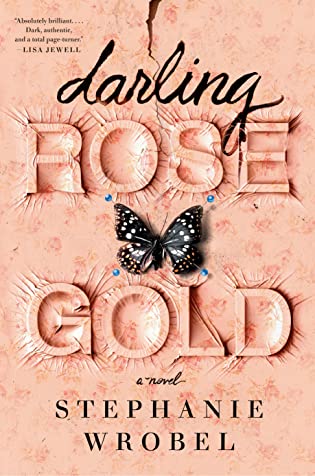 Darling Rose Gold
by
Stephanie Wrobel
Published by
Berkley
on March 17, 2020
Genres:
psychological thriller
Pages:
311


For the first eighteen years of her life, Rose Gold Watts believed she was seriously ill. She was allergic to everything, used a wheelchair and practically lived at the hospital. Neighbors did all they could, holding fundraisers but no matter how many doctors, tests, or surgeries, no one could figure out what was wrong with Rose Gold.

Turns out her mom, Patty Watts, was just a really good liar.

After serving five years in prison, Patty begs her daughter to take her in. The entire community is shocked when Rose Gold says yes. And Rose Gold is no longer her weak little darling...

And she's waited such a long time for her mother to come home.
This book was twisted.
First, let's get this out of the way. This is a thinly disguised retelling of Gypsy Rose Blanchard's story, from the unusual first name to the childlike way Rose Gold acts to the father who is clueless to the questionable online boyfriend. Except in this story, Dee Dee goes to jail instead of being murdered.
When the story opens, Patty Watts is getting out of jail after serving 5 years for abusing Rose Gold her entire life. Surprisingly, the person picking her up is Rose Gold herself, a new baby in tow, inviting Patty to come home and live with her. But things don't seem quite right. Rose Gold has purchased the house Patty grew up in, a house she never wanted to see again. She's also reluctant to eat in front of Patty, and keeps her bedroom door locked. Is this normal behavior for a daughter who is cautiously living with her abuser, or is something else going on?
The story switches back and forth between Patty and Rose Gold's points of view, but also between two time periods. Patty is talking to us from the present, and Rose Gold is talking to us from the 5 years when Patty was in jail. This was great for building suspense, because we know that things have happened, but the how of it is shrouded in mystery.
I thought this was a really compelling read, but uncomfortable at times. Rose Gold is no angel, and over time you see glimpses of the same sorts of behaviors that Patty was guilty of. She's stunted, not only physically, but emotionally and in her maturity. It would be easy to say "well, what do you expect, she was raised by a manipulator and abused", but then shouldn't you give the same grace to Patty, who also suffered an abuse childhood?
CW: if you don't want to read about children in danger/distress, this book is not for you.
The audiobook was well done, with different narrators for Patty and Rose Gold.
I read this for the following reading challenges:
Other reviews:
"Readers will know pretty early on that Rose Gold and Patty both have more sinister plans than just reconciling. The mystery readers must solve is who's plan will fall into place first. Readers looking for an entertaining yet reflective read should add Darling Rose Gold to their list of must reads." — Murder & Moore
"The story didn't end the way I thought it would. I was surprised at the way it all turned out. This was a very suspenseful story!" — Jill's Book Blog
"Overall I really enjoyed this book though it deals with some dark material, a toxic familial relationship, and some detestable characters, I just could not put it down." — The Sassy Book Geek