2021: #32 – A Breath of Snow and Ashes (Diana Gabaldon)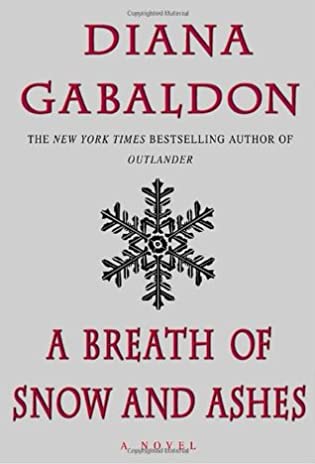 A Breath of Snow and Ashes
by
Diana Gabaldon
Series:
Outlander #06
Published by
Delacorte Press
on September 27, 2005
Genres:
historical fiction
,
hf - American Revolution
Pages:
980


A Breath of Snow and Ashes continues the extraordinary story of 18th-century Scotsman Jamie Fraser and his 20th-century wife, Claire.
The year is 1772, and on the eve of the American Revolution, the long fuse of rebellion has already been lit. Men lie dead in the streets of Boston, and in the backwoods of North Carolina, isolated cabins burn in the forest.

With chaos brewing, the governor calls upon Jamie Fraser to unite the backcountry and safeguard the colony for King and Crown. But from his wife Jamie knows that three years hence the shot heard round the world will be fired, and the result will be independence — with those loyal to the King either dead or in exile. And there is also the matter of a tiny clipping from The Wilmington Gazette, dated 1776, which reports Jamie's death, along with his kin. For once, he hopes, his time-traveling family may be wrong about the future.
It's been many years since I read the 5th book in this series, which I remember struggling with, so I'd forgotten that Diana Gabaldon is really great at what she does.
This part of the series covers the years right before the Revolutionary War, so you have politics mixed in with the art of living in the mountains of North Carolina in the late 1700s. There is tragedy and joy, mysteries solved and solutions found. It's a 900 page book, so there's no way I'm going to cover everything that happens, but life on Fraser's Ridge changes greatly between the beginning and the end of the book. There is such attention to detail in what Gabaldon writes, whether it's about making blood pudding or making ether or being kidnapped in a raid. And at the end she picks up all the little threads she's dropped along the way (even the ones you've forgotten about) and ties them into a neat bow.
This is the first audiobook I've listened to in the series, and Davina Porter is a treasure. That may be my preferred way of reading these from now on!
I read this for the following reading challenges:
Other reviews:
"I felt like this book was much different then the others, though each is unique in their own way this book seemed to answer a lot of lingering questions from previous books." — The Lit Bitch
"The whole Outlander series is a fantastic journey through time, but even in the midst of a great set of books, this one stands out." — literaryelephant
"This novel is more contemplative than others in the series. The point of view sticks much closer to Claire than either of the last three novels, and I think this is a very good move on Gabaldon's part." — Postcards From Purgatory