2021: #66 – Sweet Revenge (Nora Roberts)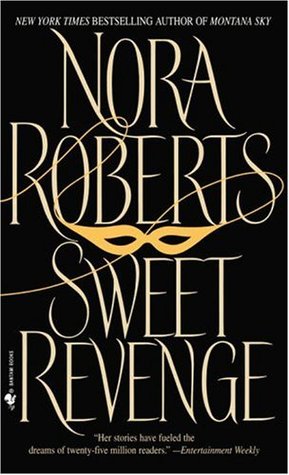 Sweet Revenge
by
Nora Roberts
Published by
Bantam
on May 5, 1997
Genres:
romantic suspense
Pages:
376


At twenty-five, Princess Adrianne lives a life most people would envy. Beautiful and elegant, she spends her days dabbling in charities and her nights floating from one glamorous gala to the next. But her pampered-rich-girl pose is a ruse, a carefully calculated effort to hide a dangerous truth.

For ten years Adrianne has lived for revenge. As a child, she could only watch the cruelty hidden behind the facade of her parents' fairy-tale marriage. Now she has the perfect plan to make her famous father pay. She will take possession of the one thing he values above all others--The Sun and the Moon, a fabled necklace beyond price.

Yet just as she is poised to take her vengeance, she meets a man who seems to divine her every secret. Clever, charming, and enigmatic, Philip Chamberlain has his own private reasons for getting close to Princess Adrianne. And only when it's too late will she see the hidden danger...as she finds herself up against two formidable men--one with the knowledge to take her freedom, the other with the power to take her life.
I enjoyed this simply because it's Nora Roberts and it involves a heist or two. It's a book that doesn't age well. The main character, Adrianne, grows up the child of a Middle-Eastern king and his American actress wife in a fictional, very religiously-strict Middle Eastern country. The attitudes put forward about Islam are very outdated and over-the-top. But Adrianne is an interesting character. She acts like a rich socialite, but in reality she is a very successful jewel thief. And her ultimate target is the necklace her father gave her mother and kept after their escape.
She gets a little bit of help from Phillip, a retired jewel thief who figures out who she is and really invites himself onto her job through blackmail. But really, she didn't need his help. She could have pulled it off all on her own because that's the sort of badass character she is.
So thumbs up for being a good romantic suspense with a solid heist, thumbs down for outdated attitudes.
I read this for the following reading challenges:
Other reviews:
"What a brilliant and great novel! The story was fantastic many years back when I´ve read it the first time, and it was now – if not even greater. What a thrilling and fantastic read. Highly recommended!" — Ink Votary