2020: #35 – The 7 1/2 Deaths of Evelyn Hardcastle (Stuart Turton)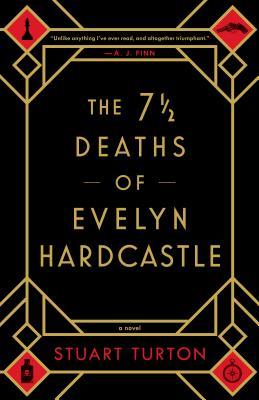 The 7 1/2 Deaths of Evelyn Hardcastle
by
Stuart Turton
Published by
Sourcebooks Landmark
on May 7, 2019
Genres:
suspense thriller
Pages:
458


"Agatha Christie meets Groundhog Day . . . quite unlike anything I've ever read, and altogether triumphant." - A. J. Finn, #1 New York Times-bestselling author of The Woman in the Window

Aiden Bishop knows the rules. Evelyn Hardcastle will die every day until he can identify her killer and break the cycle. But every time the day begins again, Aiden wakes up in the body of a different guest at Blackheath Manor. And some of his hosts are more helpful than others. With a locked room mystery that Agatha Christie would envy, Stuart Turton unfurls a breakneck novel of intrigue and suspense.

For fans of Claire North, and Kate Atkinson, The 7½ Deaths of Evelyn Hardcastle is a breathlessly addictive mystery that follows one man's race against time to find a killer, with an astonishing time-turning twist that means nothing and no one are quite what they seem.

This inventive debut twists together a thriller of such unexpected creativity it will leave readers guessing until the very last page.
Enough time passed between when I placed this on my TBR and read it that I had completely forgotten the "back of the book" text. And often I enjoy going into a book blind, so the first time the main character wakes up in a different body than the one he started the story in, the top of my head blew off and I was hooked.
There was a lot in this story that I liked. There were so many twists and turn, and the mystery getting put together little by little. There's not only the mystery of who killed Evelyn Hardcastle and why, but also the larger mystery of why is Aiden there, and how does he get out of this cycle?
I was really enjoying the puzzle of it all, but then I got to the 4th body Aiden must inhabit – Lord Cecil Ravencourt, a banker who is reduced to the characteristics of "obese", "disgusting", and "conniving". And the day he spends in Ravencourt's body left a bad taste in my mouth that lingered past the end of the book. Every thing Ravencourt tried to do was hampered by the apparently enormousness of his girth. He smelled, he couldn't get in and out of the tub by himself, he couldn't even walk from one end of the house to another without immediately having to sit and rest. But how huge could he be? The time setting is never explicitly stated, but everything has big time "Downton Abbey" vibes. So we're talking 1910s-1920s. If the man could fit into a 1920s bathtub, he certainly didn't weigh 4 or 5 hundred pounds, which is what I would expect based on the descriptions in these chapters. So what I am left to assume is that Turton knows absolutely no one who weighs more than 200 pounds, and harbors serious fatphobic thoughts about anyone who does.
Beyond that point, I thought the concept of the book was very unique and interesting. There are so many bits and pieces to the mystery that I'm sure if you were to look too closely there would be plot holes galore, but I'm content with just closing my eyes and riding the wave. If only the author hadn't stolen my surfboard and dunked me along the way.
I read this for the PopSugar Reading Challenge this year — this book fulfilled the "book you picked because the title caught your attention" prompt.
Other reviews:
"This book contains a lot of misdirection and just when I think I know what is going on…here comes another curve ball. This is part of what made this book so much fun to read. I had no idea where the story would go and the ending was a complete surprise." — Reading Between the Pages
"On the positive side, the writing is wonderful. The characters are some of the most vivid I've seen in awhile. The concept is really fantastic, and it draws you in. I was wild for a few hours trying to solve the puzzle, and I didn't want to put it down. But I also skimmed a few paragraphs because the timing was slightly off." — This is My Truth Now
"Turton is able to bring you into this world and hold you hostage, much like Aiden himself. I couldn't get this book out of my head as I was reading it, lucky for me I was able to finish it in a day, otherwise it would have been all I thought about while attempting to finish it." — Redrum Reads