2006: #5 – The Big Love (Sarah Dunn)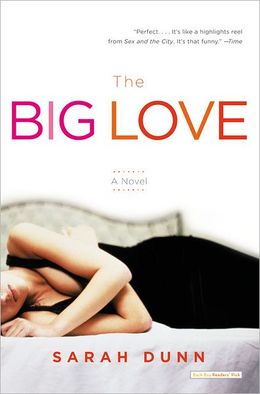 The Big Love
by
Sarah Dunn
Published by
Back Bay Books
on July 2nd 2004
Genres:
women's fiction
Pages:
228


A fresh and hilarious debut novel about commitment, competition, and the occasional joys of unencumbered sex, for readers of Pride and Prejudice to The Girls' Guide to Hunting and Fishing.

Sometimes being left in the lurch is the best thing that can happen to you. Alison Hopkins's live-in boyfriend, Tom, goes out in the middle of a dinner party to buy a jar of mustard, then calls her from a pay phone to tell her he won't be coming home. He's left her for his beautiful ex-girlfriend Kate Pearce, the kind of woman about whom men say rhapsodically, "She's like a drug." Alison had always feared that Tom's looks would land her in trouble--having a handsome boyfriend is like having a white couch, an invitation to disaster.

But if Tom isn't her Big Love, who is? Alison embraces her freedom, buys "hiking boots and lacy underwear," and sets out on a stroll down the midway of love. From an eye-opening fling with her new boss to an unexpected proposal from an old friend, Alison samples love's many varieties--all the while talking obsessively with her girlfriends, comparing stories, and working through a lifetime of conflicting beliefs about trust, faith, and commitment. In spite of (or perhaps because of) her neuroses, Alison finds a surprising kind of triumph--and an irrational faith that the Big Love may be nearer than it appears.
Book #5 was The Big Love, by Sarah Dunn.
I was pleased with this book. I really liked the author's conversational tone, and I could understand exactly why she thought the things she did, sometimes. And I even wanted to scream at her at times and cheer for her at others, much like her friends did. It was a quick read (I essentially read it in a day), but that's sort of what I'm into right now — short attention span theater.
Book count: 5
Pages in book: 228
Page count: 1,724
Words in book: 57,851
Word count:493,299