2006: #6 – The Rule of Four (Ian Caldwell & Dustin Thomason)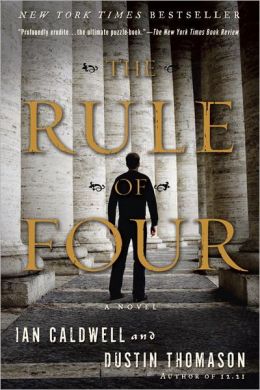 The Rule of Four
by
Dustin Thomason
,
Ian Caldwell
Published by
Dial Press
on April 1st 2004
Genres:
suspense thriller
Pages:
372

Princeton. Good Friday, 1999. On the eve of graduation, two students are a hairsbreadth from solving the mysteries of the Hypnerotomachia Poliphili, a Renaissance text that has baffled scholars for centuries. Famous for its hypnotic power over those who study it, the five-hundred-year-old Hypnerotomachia may finally reveal its secrets - to Tom Sullivan, whose father was obsessed with the book, and Paul Harris, whose future depends on it. As the deadline looms, research has stalled - until an ancient diary surfaces. What Tom and Paul discover inside shocks even them: proof that the location of a hidden crypt has been ciphered within the pages of the obscure Renaissance text.

Armed with this final clue, the two friends delve into the bizarre world of the Hypnerotomachia - a world of forgotten erudition, strange sexual appetites, and terrible violence. But just as they begin to realize the magnitude of their discovery, Princeton's snowy campus is rocked: a longtime student of the book is murdered, shot dead in the hushed halls of the history department.
Book #6 was The Rule of Four, by Ian Caldwell and Dustin Thomason.
Good book! I was a little skeptical, because there was a lot of buzz about this book, comparing it to The Da Vinci Code, but I was pleased with it. The only real comparison I saw was that it deals with art and such in the Renaissance. My only complaint is that they weren't real clear on some of the time transitions, and somewhere in the middle I lost track of the timeline. I wasn't sure if I was in the present or the past. But overall, quite interesting!
Book count: 6
Pages in book: 372
Page count: 2,096
Words in book: 112,435
Word count:605,734