2020: #24 – American Demon (Kim Harrison)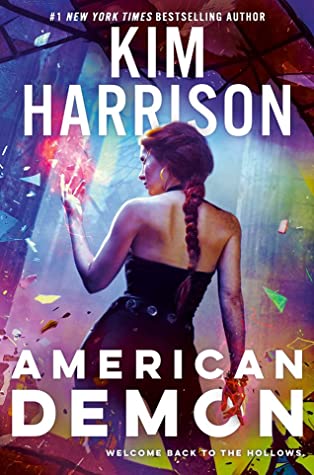 American Demon
by
Kim Harrison
Series:
Hollows #14
Published by
ACE
on June 16, 2020
Genres:
urban fantasy
Pages:
464


Also by this author:
The Turn: The Hollows Begins with Death
,
Million Dollar Demon
Also in this series:
The Turn: The Hollows Begins with Death
Rachel Morgan is back--and The Hollows will never be the same.

What happens after you've saved the world? Well, if you're Rachel Mariana Morgan, witch-born demon, you quickly discover that something might have gone just a little bit wrong. That the very same acts you and your friends took to forge new powers may have released something bound by the old. With a rash of zombies, some strange new murders, and an exceedingly mysterious new demon in town, it will take everything Rachel has to counter this new threat to the world--and it may demand the sacrifice of what she holds most dear.
Hooray for a return to the Hollows and Rachel Morgan!
This series has long been my favorite urban fantasy series, and I was excited to see that Harrison decided to continue it after a 6 year hiatus. Here, Rachel's life has become both simpler (because she no longer has to hide that she's a demon) and more complicated (because she is a witch/demon in a relationship with an elf). She is working to get her life back in order and her church repaired, while Trent is working to bring the elves together and establish a successful co-parenting relationship with Ellasbeth. And then a giant monkey wrench in the form of something making people attack their partners in their sleep gets thrown into the works. But who is it targeting? Rachel? Al? Trent?
This book has all of your favorite characters (though not quite enough Ivy for my tastes) as well as a few new ones. And Rachel is given many opportunities to show how much she's grown, even as she struggles a bit to find where her new place in the world will be. I've always appreciated how deep the friendships in this series run, and how realistic they are.
The story ends on a bit of a downer, but it is ripe for continuation (oh please oh please oh please)! I can't recommend this series enough, but you should definitely start at the beginning.
Other reviews:
"Harrison really delivered here, this story felt right at home with the rest of the series. It was fascinating to see a world after the dramatic events in the previous novel, and all of the ramifications that came with it." — Quirky Cat's Fat Stacks (of Books)
"Recommendations: this is a must-read for fans of the series – the story quality continues as strong as ever. With that in mind, I wouldn't recommend new readers diving in without first reading the main Hollows series. Also, Harrison published a really good prequel novel (The Turn) that she referenced often in American Demon, so if you haven't had a chance to read that one yet, I think it added a lot to the experience." — The Obsessive Bookseller
"Even though we have a different dynamic with a lot of the characters, they are still the characters we've always loved. They find themselves in crazy situations that always have catastrophic endings. The ending to American Demon left a lot of possibilities for continuing on, but it was sad. Sacrifices were made that will squeeze your heart." — Rantings of a Reading Addict