2021: #50 – Million Dollar Demon (Kim Harrison)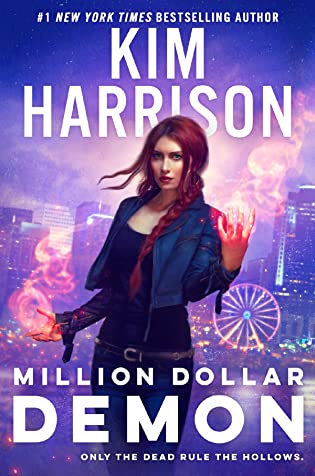 Million Dollar Demon
by
Kim Harrison
Series:
The Hollows #15
Published by
Ace Books
on June 15, 2021
Genres:
urban fantasy
Pages:
464


Also by this author:
American Demon
,
The Turn: The Hollows Begins with Death
To save the city, Rachel Morgan will need to show some teeth in the next Hollows novel from #1 New York Times bestselling author Kim Harrison.
The new master vampire of Cincinnati has arrived . . . and she wants Rachel Morgan out. No matter where Rachel goes, Constance is there--threatening Rachel's allies, causing city-wide chaos, and, to add insult to injury, even forcing Rachel out of her current quarters. Ever since Rachel found a way to save the souls of vampires, the old undead's longtime ascendancy has been broken. Now Constance sees eliminating Rachel as the key to consolidating her own power.

Rachel has no desire to be enthralled or killed--and she's terrified of what may become of the city if Constance forces a return to the ancient ways. But even a witch-born demon can't stand against the old undead--at least, not alone. And if Rachel refuses to claim the role of Cincinnati's master demon, the city will tear itself apart, taking her and all those who stand beside her with it.
Be forewarned, I cannot be impartial about this series. I unabashedly love Rachel and Jenks and everyone in the whole Hollows universe.
This book starts out with Rachel and Jenks looking for a new place to live and work. The church is still in rough shape from a couple of books ago, and they're having trouble finding anyone to come and do repairs. They've been staying at Piscary's with Ivy and Nina's permission, but with the new master vampire coming to town, that won't be an option anymore.
Rachel isn't the only one that new master vampire Constance is inconveniencing. Witches and weres throughout the city are being evicted to make room for her vampires, and no one is very happy about it. But Constance is more than a little unhinged, even for a master vampire, and talking some sense into her about keeping the peace in the city isn't going to be easy.
This book maybe isn't as action-packed as some others in the series, and there's less Trent than there has been lately, but none of this lessened my enjoyment. These books are pure pleasure reads for me, and I'm so happy that Kim Harrison continues to write them.
I read this for the following reading challenge:
Other reviews:
"Clever plans, alliances, loss, spells and deals made for an addictive read. The banter, camaraderie, and moments between lovers and friends balanced out the action and made me feel right at home in the Hollows." — Caffeinated Reviewer
"Once again, Kim Harrison has written a great book. The Hollows is consistently a great series with engaging characters. That is a giant accomplishment, especially since this is book 15. There is still more story to tell; with the way that Harrison writes, I could probably enjoy this series for another 15 books." — Before We Go Blog
"I'm really enjoying getting more in this world. In some ways, I like it better than the original series. In others, I have some of the same issues." — Books of My Heart