2006: #45 – Eveless Eden (Marianne Wiggins)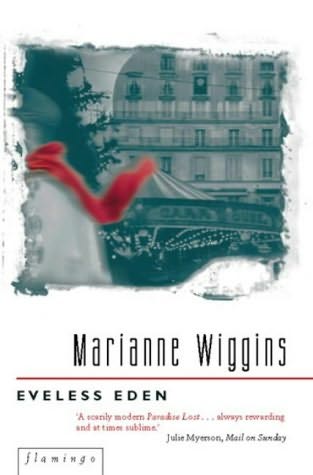 Eveless Eden
General Fiction
HarperCollins Publishers
1995
337

Eveless Eden tells the story of a passionate love affair between a foreign correspondent for an American newspaper and the tough, sexy, talented photographer he meets at the site of an ecological disaster in Africa. Noah swings between disillusion and romanticism, cynicism and faith, despair and hope, as he and Lilith pursue their adventure in Paris, London, at the fall of the Berlin Wall, and through the scandal of AIDS tainted blood in the orphanages of Nicolai Ceausescu's Romania. Lilith's fateful attraction to danger makes her vulnerable to the seductive appeal of a mysterious Romanian, Adam Pentru, a man of evil genius, Minister of Trade in the Ceausescu government and a spy for the British. When Adam enters the picture, the story darkens and narrative suspense mounts, as Noah struggles to piece together a story more horrifying than any he has ever covered. Eveless Eden offers a sweeping vision of individual, political, and global evil in the modern world..
Book #45 was Eveless Eden, by Marianne Wiggins.
I wasn't sure I was going to like this book. I received it as a gift, and it's not something I normally would have purchased. However, I ended up enjoying it quite a bit. It had its own distinct writing style, and though the book ends very abruptly, it fits.
Book count: 45
Pages in book: 352
Page count: 17,851
Words in book: 116,192
Word count: 5,136,631
1,000,000 words surpassed — 2/2/06
2,000,000 words surpassed — 2/14/06
10,000 pages surpassed — 3/10/06
3,000,000 words surpassed — 3/16/06
4,000,000 words surpassed — 4/3/06
5,000,000 words surpassed — 5/30/06