2005: #51 – Three to Get Deadly (Janet Evanovich)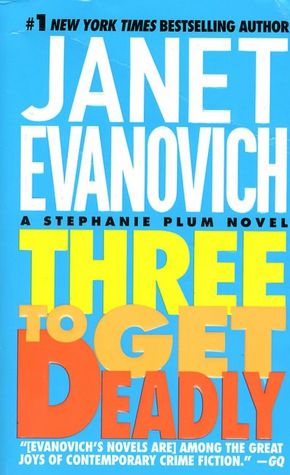 Three to Get Deadly
by
Janet Evanovich
Series:
Stephanie Plum #03
Published by
St. Martin's Paperbacks
on July 15th 1998
Genres:
general mystery
Pages:
321


Also by this author:
One for the Money
,
Two for the Dough
Also in this series:
One for the Money
,
Two for the Dough
A "saintly" old candy store owner is on the lam - and bounty hunter extraordinaire Stephanie Plum is on the case. As the body count rises, Stephanie finds herself dealing with dead drug dealers and slippery fugitives on the chase of her life. And with the help of eccentric friends and family, Steph must see to it that this case doesn't end up being her last....
Book #51 was Three to Get Deadly, the third book in Janet Evanovich's Stephanie Plum series.
I really like these books. Which will be evident when you see how many of them I'm about to blog about. I've just been sucked in by the characters, from Stephanie, to Grandma Mazur, to Lula, to Ranger, to Joe, to Rex.
It doesn't hurt that I've been dealing with house stress by hiding in books.
Book count: 51
Pages in book: 344
Page count: 18,355
15,000 page goal reached 6/14/05!
50 book goal reached 7/19/05!