2009: #37 – Whiskey Sour (J.A. Konrath)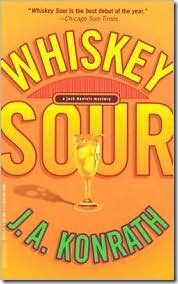 Book #37 was Whiskey Sour, the first Jacqueline "Jack" Daniels mystery from J.A. Konrath.  The back of the book reads:
Lieutenant Jacqueline 'Jack' Daniels is having a bad week. Her live-in boyfriend has left her for his personal trainer, chronic insomnia has caused her to max out her credit cards with late-night home shopping purchases, and a frightening killer who calls himself 'The Gingerbread Man' is dumping mutilated bodies in her district. Between avoiding the FBI and its moronic profiling computer, joining a dating service, mixing it up with street thugs, and parrying the advances of an uncouth PI, Jack and her binge-eating partner, Herb, must catch the maniac before he kills again….and Jack is next on his murder list. Whiskey Sour is full of laugh-out-loud humor and edge-of-your-seat suspense, and it introduces a fun, fully drawn heroine in the grand tradition of Kinsey Millhone, Stephanie Plum, and Kay Scarpetta.
I liked this because it was different than other detective novels I've read recently. Jack isn't the typical female lead detective — i.e., she's not young, hot, and sexy.  Instead, Jack is 46, going grey, and showing the effects of 15 years of chronic insomnia.  And her latest live-in just left her for his personal trainer. She becomes a focus of "The Gingerbread Man" after he spots her taking charge of his crime scene.  Not only do you get Jack's side of things in this story, you get his.  The portrayal of the FBI here is pretty laughable and inaccurate, but I understand that it's meant to be comic relief, nothing more.  I'll definitely read more books in this series.
Page count: 276 | Word count: 65,858
2008: Club Dead (Charlaine Harris)
2007: The Survivors (Dinah McCall)
2006: Goodnight Nobody (Jennifer Weiner)
2005: Circus of the Damned (Laurell K. Hamilton)
Used in these Challenges: Spring Reading Thing 2009; 100+ Reading Challenge 2009; 1st in a Series Challenge; The 999 Challenge; A-Z 2009 Challenge; Read Your Own Books Challenge;