2017: #23 – Deep Storm (Lincoln Child)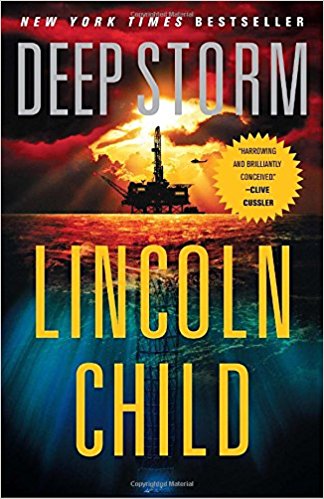 Deep Storm
by
Lincoln Child
Series:
Jeremy Logan #01
Published by
Anchor
on July 19th 2011
Genres:
adventure thriller
,
thriller
Pages:
384


In this explosive new thriller, one of the most incredible and frightening discoveries mankind has ever faced is about to surface.

On an oil platform in the middle of the North Atlantic, a terrifying series of illnesses is spreading through the crew. When expert naval doctor Peter Crane is flown in, he finds his real destination is not the platform itself but Deep Storm: a top secret aquatic science facility, two miles below on the ocean floor. And as Crane soon learns, the covert operation he finds there is concealing something far more sinister than a medical mystery—and much more deadly.
Lincoln Child is perhaps best known for his partnership with Douglas Preston, writing the Pendergast novels. While those tend to be part crime, part adventure, Child's solo fare tends to lean more towards science fiction adventure.
Deep Storm follows Dr. Peter Crane, a Naval doctor who has been asked to take on an extraordinary task — go to a facility 2 miles below the ocean surface and identify what is making people ill.  While there, he finds that things are not what they seem, and the ramifications could be literally earth-shaking.
I don't want to say too much about what is actually happening that far below the ocean, but it's a little bit science fiction, a little bit supernatural. I enjoyed the story, even though I usually don't care for science-heavy story lines. It helped a lot when the action picked up! I also don't really understand this books designation as the first of the Jeremy Logan series, because Logan is an extremely minor character in the story.
I generally put Child's stand-alone work in the same category as Clive Cussler's — fun adventure stories with a science-y twist.
Other reviews:
"This novel had a lot of elements I liked about it, including the fairly well thought out plot. Normally techno-thrillers get bogged down in details (e.g. Crichton's Timeline) or get the science wrong (e.g. Crichton's State of Fear), but Child managed to balance accuracy with pacing." – Tyson Adams
"Although revealed with frustrating slowness, the mystery that comes out in the end is intriguing and thought provoking." – Mage Menagerie
"I enjoyed this book a lot and actually read it in just a few hours. I could not put it down. This is the best of Lincoln Child's solo novels." – BiblioHistoria