2017: #24 – Lincoln in the Bardo (George Saunders)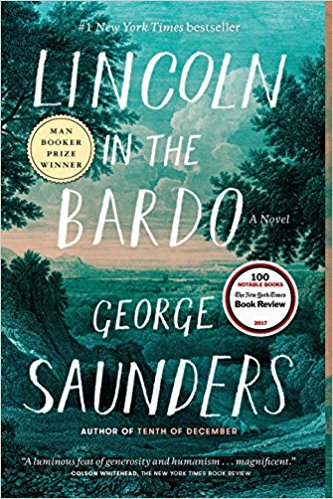 Lincoln in the Bardo
by
George Saunders
Published by
Random House
on February 14th 2017
Genres:
literary fiction
Pages:
343


February 1862. The Civil War is less than one year old. The fighting has begun in earnest, and the nation has begun to realize it is in for a long, bloody struggle. Meanwhile, President Lincoln's beloved eleven-year-old son, Willie, lies upstairs in the White House, gravely ill. In a matter of days, despite predictions of a recovery, Willie dies and is laid to rest in a Georgetown cemetery. "My poor boy, he was too good for this earth," the president says at the time. "God has called him home." Newspapers report that a grief-stricken Lincoln returned to the crypt several times alone to hold his boy's body.

From that seed of historical truth, George Saunders spins an unforgettable story of familial love and loss that breaks free of its realistic, historical framework into a thrilling, supernatural realm both hilarious and terrifying. Willie Lincoln finds himself in a strange purgatory, where ghosts mingle, gripe, commiserate, quarrel, and enact bizarre acts of penance. Within this transitional state—called, in the Tibetan tradition, the bardo—a monumental struggle erupts over young Willie's soul.

Lincoln in the Bardo is an astonishing feat of imagination and a bold step forward from one of the most important and influential writers of his generation. Formally daring, generous in spirit, deeply concerned with matters of the heart, it is a testament to fiction's ability to speak honestly and powerfully to the things that really matter to us. Saunders has invented a thrilling new form that deploys a kaleidoscopic, theatrical panorama of voices—living and dead, historical and invented—to ask a timeless, profound question: How do we live and love when we know that everything we love must end?
This is a book that almost defies description. All of the action takes place in the "bardo", the space between life and death, between heaven and hell. Abraham Lincoln's 11 year old son Willie has died, and the ghosts that live in the bardo want to make sure he moves on to heaven safely, while Willie just wants to go back to his father. In between scenes in the bardo, Saunders uses quotes from historical documents (real or imagined, I'm not sure) to set the scene of what's happening in the "real" world. 
The novel's construction is unusual. The quotations can go on for quite a while, but I enjoyed and appreciated them and felt like they gave a real feeling of the political and familial atmosphere of the time. The scenes in the bardo can be difficult to follow at times — there are a lot of characters, and sometimes what's happening is obvious, other times everything takes on a very surreal quality. 
I had heard great things about the audiobook, so that's how I tackled it. It took me some time to catch on to the structure and what was happening, but once I caught on to the rhythm I didn't find it difficult to listen to.
This was a lovely yet heartbreaking novel, especially if you are a parent.
Other reviews: 
"'Lincoln in the Bardo' ultimately didn't work for me because of the numerous structural distractions, but it seems to have struck a chord with many others, particularly for the innovative way in which the themes of grief and loss are explored." — A Little Blog of Books

"The book itself is super weird but also awesome. It's a mix of reality and fiction. I loved how Saunders incorporates first-hand accounts of what Lincoln was like, what the White House was like, and just in general had a lot of reality interwoven with the fictional goings on at the bardo." — Reading for Sanity
"This book was a reflection on the meaning of life, told via grotesque horror-comedy.  This book made my heart ache and my brain think and I'm really not sure what else you can ask for out of a book." — Thoughts From a Forever Bookworm