2018: #25 – Long Gone (Alafair Burke)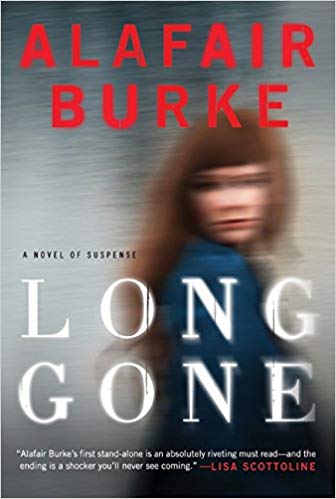 Long Gone
by
Alafair Burke
Published by
Harper
on June 21, 2011
Genres:
suspense thriller
Pages:
368


Also by this author:
The Ex
After a layoff and months of struggling, Alice Humphrey finally lands her dream job managing a new art gallery in Manhattan's trendy Meatpacking District. According to Drew Campbell, the well-suited corporate representative who hires her, the gallery is a passion project for its anonymous, wealthy, and eccentric owner. Drew assures Alice that the owner will be hands off, allowing her to run the gallery on her own. Her friends think it sounds too good to be true, but Alice sees a perfect opportunity to make a name for herself beyond the shadow of her famous father, an award-winning and controversial film maker.

Everything is perfect until the morning Alice arrives at work to find the gallery gone—the space stripped bare as if it had never existed—and Drew Campbell's dead body on the floor. Overnight, Alice's dream job has vanished, and she finds herself at the center of police attention with nothing to prove her innocence. The phone number Drew gave her links back to a disposable phone.

The artist whose work she displayed doesn't seem to exist. And the dead man she claims is Drew has been identified as someone else.

When police discover ties between the gallery and a missing girl, Alice knows she's been set up. Now she has to prove it—a dangerous search for answers that will entangle her in a dark, high-tech criminal conspiracy and force her to unearth long-hidden secrets involving her own family… secrets that could cost Alice her life.
This was the second Alafair Burke novel I read in 2 months, but this one wasn't as good as the first. The story is about Alice Humphrey, a rich girl who has declined the help of her father and is therefore in need of a job and surprise, one falls into her lap one evening at an art show. Before she knows it, she is alone in charge of a gallery. But what seems too good to be true often is, and when her benefactor ends up dead, she ends up accused of his murder.
The frame-up job is good, but this plot was really convoluted. There are a lot of moving pieces, and frankly, one too many story-lines. There's a subplot involving a missing teen that is connected to the main story with only the thinnest of threads, and I think the whole thing could have been cut out without harming the book at all. Even when I got to the end I didn't really understand why it was there.
But overall I still enjoy Burke as an author, and I look forward to trying out more of her books.
Other reviews:
"There were lots of twists and turns which is always fun (and to be expected) when reading a thriller. A few of the plot twists were easy to figure out ahead of time, but some of them did take me by surprise. I always like it when the author can genuinely surprise me. Long Gone was a fun thriller that was great for a few hours of pure escapism." – Luxury Reading
"If you like suspenseful crime novels, you will absolutely love Long Gone. There are enough twists and turns to keep you guessing, with just enough clues sprinkled in to make you think you know what's going to happen next- but you'd be so wrong." – Lazy Day Books
"Long Gone is a fast paced pager turner with lots of twists and a great ending. Burke has succeeded in stepping out of the series mode to try something different. She's definitely on my must read list." – A Bookworm's World