2019: #11 – Confessions of a Domestic Failure (Bunmi Laditan)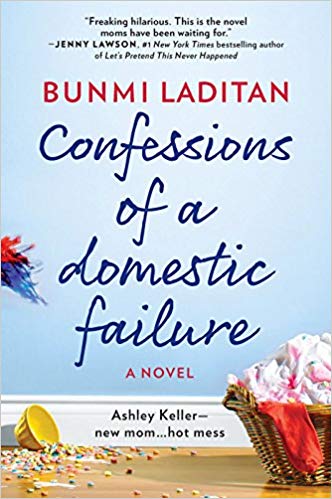 Confessions of a Domestic Failure
by
Bunmi Laditan
Published by
Mira Books
on May 2, 2017
Genres:
women's fiction
Pages:
320


There are good moms and bad momsand then there are hot-mess moms. Introducing Ashley Keller, career girl turned stay-at-home mom who's trying to navigate the world of Pinterest-perfect, Facebook-fantastic and Instagram-impressive mommies but failing miserably.

When Ashley gets the opportunity to participate in the "Motherhood Better" bootcamp run by the mommy-blog-empire maven she idolizes, she jumps at the chance to become the perfect mom she's always wanted to be. But will she fly high or flop?

With her razor-sharp wit and knack for finding the funny in everything, Bunmi Laditan creates a character as flawed and lovable as Bridget Jones or Becky Bloomwood while hilariously lambasting the societal pressures placed upon every new mother. At its heart, Ashley's story reminds moms that there's no way to be perfect, but many ways to be great.
I thought this was good, but it really rode the edge of too cringey for me. Ashley is a first-time mom who is struggling like a lot of first-time moms. She doesn't know who she is anymore, she feels like she can't get a handle on routine household tasks, she feels inferior to her sister (also a first-time mom), not to mention the pressure of all the "perfect" moms out in the world and on the internet. So when she sees the chance to learn from the ultimate Perfect Mom, she jumps on it.
As Ashley's failures multiplied, I could feel my shoulders pulling further and further up towards my ears. I don't do well with second-hand embarrassment, and I wanted to scream at her several times. But at the same time, Ashley's struggles are very relatable. Many women feel the pressure to breast feed, don't know how to feed their growing child, have trouble finding the time to take care of themselves, can't figure out how to fill the day yet always run out of time.
Overall, I was satisfied when I reached the end of the book, and found the ending to be both fulfilling and redeeming. But the avalanche of failures throughout the book are hard to forget.
Other reviews:
"I probably won't read this book again, but I would recommend it as a good one time read to those who are looking to lighten up a bit, have a good laugh, and stop comparing themselves to other moms." — Reading for Sanity
"Overall, this book is a fantastic read for any stay-at-home mom. There are so many "I know, right?!" moments that unite us, from unending laundry to feeling like a lesser person because we don't bring in money. Ashley is smart and comical but she also has real flaws like we all do: nappy hair, ill-fitting clothes, stretch marks. She's all of us." — Real Simple Mama
"I loved this book – it was a fun and quick read. I would recommend it if you want to see a realistic, funny view on motherhood and life. For me, it was a breath of fresh air!" — My Reading Spot