2005: #3 – 3rd Degree (James Patterson & Andrew Gross)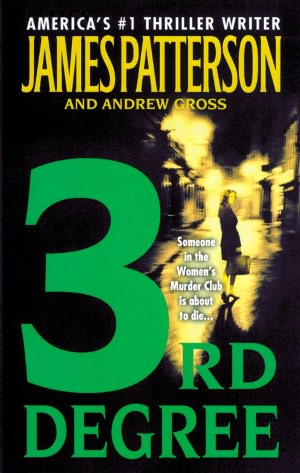 3rd Degree
by
James Patterson
,
Andrew Gross
Series:
Women's Murder Club #03
Published by
Grand Central Publishing
on January 1st 2005
Genres:
police procedural
Pages:
339


Also by this author:
The Big Bad Wolf
The Women's Murder Club returns in a shockingly suspenseful thriller. Plunging into a burning town house, Detective Lindsay Boxer discovers three dead bodies...and a mysterious message at the scene. When more corpses turn up, Lindsay asks her friends Claire Washburn of the medical examiner's office, Assistant D.A. Jill Bernhardt, and San Francisco Chronicle reporter Cindy Thomas to help her find a murderer who vows to kill every three days. Even more terrifying, he has targeted one of the four friends. Which one will it be?
That was a quick read!
Book #3 is 3rd Degree, by James Patterson. This is the 3rd book in his Women's Murder Club series.
Like the rest of Patterson's books, this was a very quick read. He really is the master of short chapters and large print. But, it entertained me for the 5 hours or so it took me to read it, so I really can't complain.
Page count: 1,260/15,000