2021: #51 – His Majesty's Dragon (Naomi Novik)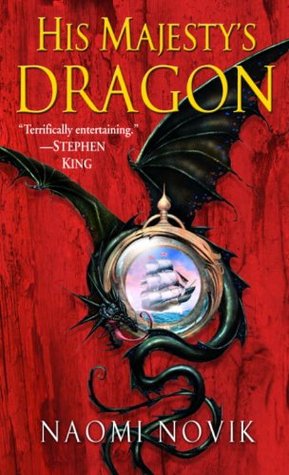 His Majesty's Dragon
by
Naomi Novik
Series:
Temeraire #01
Published by
Del Rey
on March 28, 2006
Genres:
historical fantasy
Pages:
356


Also by this author:
Uprooted
,
A Deadly Education
Aerial combat brings a thrilling new dimension to the Napoleonic Wars as valiant warriors ride mighty fighting dragons, bred for size or speed. When HMS Reliant captures a French frigate and seizes the precious cargo, an unhatched dragon egg, fate sweeps Captain Will Laurence from his seafaring life into an uncertain future – and an unexpected kinship with a most extraordinary creature. Thrust into the rarified world of the Aerial Corps as master of the dragon Temeraire, he will face a crash course in the daring tactics of airborne battle. For as France's own dragon-borne forces rally to breach British soil in Bonaparte's boldest gambit, Laurence and Temeraire must soar into their own baptism of fire.
I don't know what I expected when I picked this up, but it certainly wasn't what I got! I was unsure when I started because the writing is very formal (like Laurence himself), but by the time the dragon hatched and started talking, I was in!
To say that Laurence is a reluctant dragon aviator is a huge understatement. He had his life all mapped out — a long solid career in the Navy, captaining his own ship. Maybe a perfectly pleasant and acceptable marriage to a young lady from home. Becoming bonded (for life!) with a dragon taken from a French ship was not in the plans.
This book surprised me, over and over. Laurence's treatment of Temeraire is respectful and tender. The dragons are very intelligent, and Novik takes pains to point this out. They're not just weapons in the war, but also strategists. There are also some strong female characters in the book. Novik is known for her strong female characters, but I wasn't expecting to find them here.
I confess to skimming a little over some of the war strategy, but overall I enjoyed this book. I expect I will pick up the next one because I'm really curious to see where the story goes. There is so much about Temeraire that we don't yet know.
I read this for the following reading challenge:
Other reviews:
"I really can't say enough good things about this book. Fans of fantasy fiction, especially dragons (and for those looking for a unique take on the whole "dragon rider" concept), should definitely check this one out. If you like historical fiction and military fiction as well, that can only be a plus!" — The Library Ladies
"Temeraire is funny, unique, and intelligent; Laurence a gentleman and good officer. The adventures are fun and well-paced, and the training was interspersed with moments of adorable joy (the dragons running across the beach to splash in the ocean) and sadness (mistreatment and neglect)." — scribbles & wanderlust
"Truth be told, the balance between training and fighting being so heavily in favor of training didn't really do it for me. The descriptions of aerial combat were all right, but not anything to write home about." — Too Much Berard