2021: #58 – City of Bones (Cassandra Clare)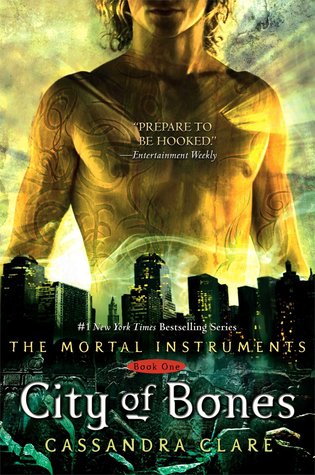 City of Bones
by
Cassandra Clare
Series:
The Mortal Instruments #01
Published by
Margaret K. McElderry Books
on March 27, 2007
Genres:
y/a fantasy
Pages:
485


When fifteen-year-old Clary Fray heads out to the Pandemonium Club in New York City, she hardly expects to witness a murder― much less a murder committed by three teenagers covered with strange tattoos and brandishing bizarre weapons. Then the body disappears into thin air. It's hard to call the police when the murderers are invisible to everyone else and when there is nothing―not even a smear of blood―to show that a boy has died. Or was he a boy?

This is Clary's first meeting with the Shadowhunters, warriors dedicated to ridding the earth of demons. It's also her first encounter with Jace, a Shadowhunter who looks a little like an angel and acts a lot like a jerk. Within twenty-four hours Clary is pulled into Jace's world with a vengeance when her mother disappears and Clary herself is attacked by a demon. But why would demons be interested in ordinary mundanes like Clary and her mother? And how did Clary suddenly get the Sight? The Shadowhunters would like to know...
This is one of those YA series that passed me by the first time around, but I'm glad I gave it a shot.
This paranormal world is similar to other in that there are vampires and werewolves and demons and other magical creatures, but there are also Shadowhunters. Which are kinda like angels, but not really? All of these creatures are normally invisible to humans, but Clary Fray can see them. She just doesn't realize until she witnesses something going down in a club one night. And then even weirder things start to happen, culminating with the disappearance of Clary's mother and Clary being saved by one of the Shadowhunters, Jace.
Jace and the other Shadowhunters reluctantly agree to help Clary find her mother, mostly because it seems like her disappearance is tied to a rogue Shadowhunter named Valentine, who disappeared 16 years before after trying to start a war between the Shadowhunters and the Downworlders (everyone else non-human).
Overall, I enjoyed this. There's enough variety between the different characters that they don't blend into each other. I did find Clary's interactions with her friend Simon pretty cringey, but I think they worked it out in the end. There's also a twist in there that I'm still raising an eyebrow about, but I am withholding judgement for now. I'll likely continue the series at some point in the future.
Other reviews:
"I really hope I am able to start on 'City Of Ashes' soon because I want to know what happens next between Clary and Jace, especially after that big reveal at the end. I'm still fairly confused by that but I'm choosing to keep it to myself as I feel like anyone who reads this will think I just ruined the ending for them, so I'm stopping here." — Got Meghan's Blog
"From animal transformations to forbidden love, this book was a rollercoaster of beautiful writing and painful experiences, all of which kept me stuck to the pages without hesitation. The universe development has been intense and well considered, and it's always wonderful to see a whole world stretching out ahead of you to read." — And On She Reads
"Finally, THE most important part of this book, this series—the characters!!! Clare knows how to write some funny/interesting/relatable/annoying/diverse/unforgettable characters, let me tell you." — Star Crossed Book Blog