2021: #76 – Meet Cute (Helena Hunting)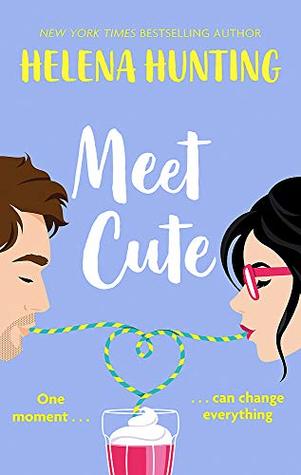 Meet Cute
by
Helena Hunting
Published by
Piatkus
on April 9, 2019
Genres:
romance
,
contemporary romance
Pages:
384


Kailyn Flowers was always calm and controlled - until she ended up sprawled all over Daxton Hughes, the former actor she totally crushed on as a teenager. In seconds, she became a mortifying fangirl and oddly enough, he didn't run away. Instead, their meet cute led to something she never expected: a friendship. Of course, she never expected him to betray her, either.

Eight years later, Dax needs Kailyn's help. Years of anger towards him haven't exactly left Kailyn inclined to oblige, but she also isn't heartless enough to turn him down. She vows to be friendly, but soon their 'friendly' meetings turn into flirty dinner dates, and Kailyn can feel their chemistry is as explosive as ever. But how can she possibly let down her guard again to a guy who has heartbreak written all over him?
I felt like there was a little bit of bait and switch here. This is not the cute romance you might be expecting. It starts out that way, but then gets very dark, very quickly. I also had difficulty with Kailyn. She's pretty unlikeable at the start of the book, and I had a hard time warming up to her once she softened up. But overall I enjoyed the story enough to read another by this author.
I read this for the following reading challenges:
Other reviews:
"While I enjoyed the read, my biggest issue was that these two LAWYERS didn't even guess at something stupidly obvious. I literally started grumbling at my Kindle, so much that my seatmate asked what my Kindle did to me! I also felt that the fact that he was a childhood star she crushed on kind of got lost in the story and wasn't quite necessary." — Ana's Attic
"The story reminded me a bit of Sustained by Emma Chase, which I loved. So, if you love books with kids, great banter, and a couple that works well together, this the right story for you. The novel was moving and heartwarming, uplifting and entertaining. The perfect summer read!" — The Brown Eyed Bookworm
"Although I really enjoyed the chemistry between the characters as well as the overall plot, the book is not without flaws. Some elements of the story just don't ring true. Kailyn's grudge against Dax is overemphasized and rather childish. Dax also has an incredibly annoying friend who pops up occasionally and shows zero character growth." — Reading Frenzy Book Blog