2019: #30 – Down by the River (Robyn Carr)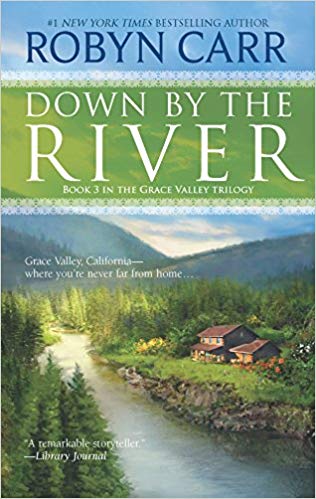 Down by the River
by
Robyn Carr
Series:
Grace Valley #03
Published by
MIRA
on May 23, 2003
Genres:
women's fiction
Pages:
384


Also by this author:
Whispering Rock
,
A Virgin River Christmas
,
Deep in the Valley
,
Just Over the Mountain
,
One Wish
Also in this series:
Deep in the Valley
,
Just Over the Mountain
In the peaceful town of Grace Valley, neighbors are like family -- and just as meddlesome, too.

June Hudson is the town's doctor, a caring, capable woman who now has a bit of explaining to do. People are beginning to notice the bloom in her cheeks -- and the swell of her belly. Happily, DEA agent Jim Post is back in June's arms for good, newly retired from undercover work and ready for new beginnings here in Grace Valley.

Expecting the unexpected is a way of life in Grace Valley, and the community is overflowing with gossip right now. Who is the secret paramour June's aunt Myrna is hiding? Does the town's pokerplaying pastor have too many aces up his sleeve? But when dangers, from man and nature, rise up with a vengeance to threaten June and the town, this community pulls together and shows what it's made of. And Jim discovers the true meaning of happiness here in Grace Valley: there really is no place like home.
This was a solid end to a trilogy that I really enjoyed, reading each book in succession.
Grace Valley's doctor June is surprise pregnant, and her lover, Jim Post, is no longer a secret. Much of the book is dedicated to June and her pregnancy and the pressure she is feeling to get married before this baby makes its appearance — despite her doubts and fears. But the rest of the book is dedicated to Grace Valley as a community and how they come together, and that's where this series really shines.
If you like a nice story with a little romance and a lot of heart, this trilogy may hit the spot for you.