2021: #21 – Truth or Beard (Penny Reid)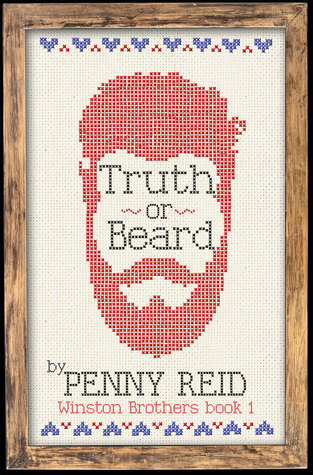 Truth or Beard
by
Penny Reid
Series:
Winston Brothers #01
Published by
Caped Publishing
on July 21, 2015
Genres:
contemporary romance
Pages:
390


Beards, brothers, and bikers! Oh my!

Identical twins Beau and Duane Winston might share the same devastatingly handsome face, but where Beau is outgoing and sociable, Duane is broody and reserved. This is why Jessica James, recent college graduate and perpetual level-headed good girl, has been in naïve and unhealthy infatuation with Beau Winston for most of her life.

His friendly smiles make her tongue-tied and weak-kneed, and she's never been able to move beyond her childhood crush. Whereas Duane and Jessica have always been adversaries. She can't stand him, and she's pretty sure he can't stand the sight of her…

But after a case of mistaken identity, Jessica finds herself in a massive confusion kerfuffle. Jessica James has spent her whole life paralyzed by the fantasy of Beau and her assumptions of Duane's disdain; therefore she's unprepared for the reality that is Duane's insatiable interest, as well as his hot hands and hot mouth and hotter looks. Not helping Jessica's muddled mind and good girl sensibilities, Duane seems to have gotten himself in trouble with the local biker gang, the Iron Order.

Certainly, Beau's magic spell is broken. Yet when Jessica finds herself drawn to the man who was always her adversary, now more dangerous than ever, how much of her level-head heart is she willing to risk?
Jessica James is back in her hometown, teaching math at the high school, but not for long. She has big plans to see the world, so she's only sticking around long enough to save some money and then she's gone. And she's certainly not going to let some guy hold her back.
Except she's always had a wicked crush on one of the Winston twins, Beau Winston. He was always nice to her, while his brother Duane was a jerk. When they run into each other at the town Halloween party, things get hot and heavy quickly. Except there's one problem — that wasn't Beau.
This was a fun romance that I enjoyed a lot. There's a little bit of danger (the Winstons have unfortunate ties to a local biker gang/drug runners) and a lot of ups and downs, but it was a fun ride. Reid definitely sets up the Winstons as a family you want to get to know. I thought some of the reasons why Jess and Duane break up were silly, but I also know how romance formula works.
I listened to this on audio and I thought it was well done, with different narrators for Jess and Duane. Jess is voiced by Joy Nash, who played the lead in the show Dietland.
I read this for the following reading challenges:
Other reviews:
"Overall this story had a bit of everything – some tension and suspense, sexy scenes, sweet romantic interludes, annoying but understanding and supportive family and lots of laughs." — Harlequin Junkie
"Truth or Beard is a laugh out loud and swoon worthy read that will keep you on your toes." — The Never Ending Bookshelf
"I didn't like how their romance and hooking-up was dragged for a few chapters. In fact, that turned me off and I didn't feel Duane and Jess' chemistry." — Eye Heart Romance