2005: #52 – Four to Score (Janet Evanovich)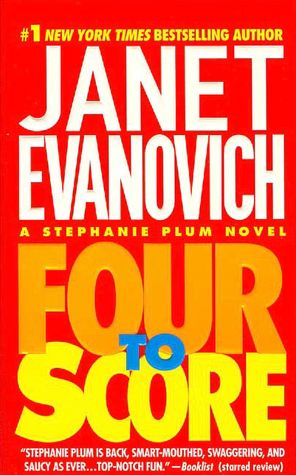 Four to Score
by
Janet Evanovich
Series:
Stephanie Plum #04
Published by
St. Martin's Paperbacks
on June 15th 1999
Genres:
general mystery
Pages:
313


Also by this author:
One for the Money
,
Two for the Dough
Also in this series:
One for the Money
,
Two for the Dough
Stephanie Plum, Trenton, New Jersey's favorite pistol-packing, condom-carrying bounty hunter, is back - and on the trail of a revenge-seeking waitress who's skipped bail. With the help of 73-year-old Grandma Mazur, ex-hooker Lula, a transvestite musician named Sally Sweet, and the all-too-hospitable, all-too-sexy Joe Morelli, Stephanie might just catch her woman. Then again, with more mishaps than there are exits on the Jersey Turnpike - including murders, firebombs, and Stephanie's arch-rival bounty hunter chasing after the same fugitive - Stephanie better watch her back big-time if she wants to live to crack this case.
Book #52 was Four to Score, the fourth book in Janet Evanovich's Stephanie Plum series.
It's about this time in the series that you start to lose track of just how many cars Stephanie's lost, and how many times she's almost slept with someone. Not to mention, how many times her gun and/or pepper spray are somewhere else.
Book count: 52
Pages in book: 294
Page count: 18,649
15,000 page goal reached 6/14/05!
50 book goal reached 7/19/05!