2005: #54 – Hot Six (Janet Evanovich)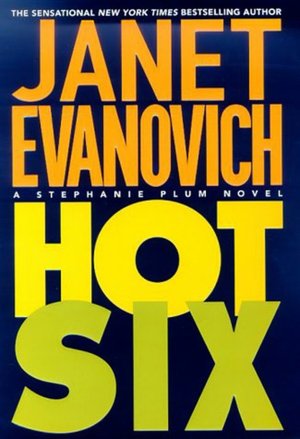 Hot Six
by
Janet Evanovich
Series:
Stephanie Plum #06
Published by
St. Martin's Paperbacks
on June 15th 2001
Genres:
general mystery
Pages:
336


Also by this author:
One for the Money
,
Two for the Dough
Also in this series:
One for the Money
,
Two for the Dough
Low-rent bounty hunter Stephanie Plum reaches depths of personal experience that other women detectives never quite do. In Hot Six, for example, a sequence of new and hideous cars bite the dust; she finds herself lumbered with a policeman's multiply incontinent dog; and she has several bad skin days. All this when she is trying to prove her distinctly more competent colleague and occasional boyfriend Ranger innocent of a mob hit; avoid the heavies trailing her in the hope of finding him; and cope with a wife-abusing bail defaulter with nasty habits, such as setting Stephanie on fire.
Book #54 was Hot Six, the sixth book in Janet Evanovich's Stephanie Plum series.
Still liking them. And come on! Now there's Bob! You have to love Bob!
Book count: 54
Pages in book: 294
Page count: 19,235
15,000 page goal reached 6/14/05!
50 book goal reached 7/19/05!