2011: #14 – Diavolino (Steve Emmett)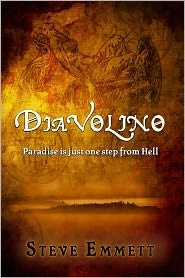 Book #14 was Diavolino by Steve Emmett. The back of the book reads:
Paradise is just one step from Hell.

The chance to build a dream home on a private island in Italy's most beautiful lake offers architect Tom Lupton the fresh start he's been yearning for. But when he arrives with his family on Diavolino, he finds the terrified locals dead set against his arrival. The island, whose very existence has been shrouded in secrecy for half a millennium, has a dark history that no one cares to remember, and as their opposition to Tom grows, so grows a brooding evil that will lead them to the very doors of hell…
I found myself impressed with this debut novel. The Lupton family thinks they're just living in Italy for a short while as they design a home for a wealthy client. Instead of a pleasant working vacation, they find unwelcoming and suspicious townspeople and a big scary hole in the ground. I liked the Lupton family as characters, and Annamaria, the local schoolmistress. Emmett does a great job of letting the reader know who is good, who is bad, and who you shouldn't be too sure of. I was also impressed by the description; the bloody lake splashing up against the white hull of the boat was particularly vibrant for me. Also, the Stymphalian birds taking down the planes.
The one thing I wish had been different is the build-up.  I would have a loved another incident or two before the chaos really begins.  Things go bad very quickly, when we've barely had a chance to get our bearings on the island and in the town.
Overall, this is a nice piece of horror with religious roots. It also made me think of the Italian "haunted island" of Poveglia, and I always like when I can relate a story to something in real-life.
This book was a review copy.
Other reviews:
Moonlight and Roses: Diavolino | Steve Emmett
Page count: ~336 ('11 total: 3,958) | Word count: 84,070 ('11 total: 1,303,052)
2010: The Kitchen House (Kathleen Grissom)
2009: A Fistful of Charms (Kim Harrison)
2008: Sick Puppy (Carl Hiaasen)
2007: Judge & Jury (James Patterson)
2006: The Killing Dance (Laurell K. Hamilton)
2005: Rosemary's Baby (Ira Levin)
Used in these Challenges: Countdown Challenge 2011; 2011 E-book Reading Challenge; ARC Reading Challenge 2011; New Author Challenge 2011; Outdo Yourself Reading Challenge 2011;