2016: Milk and Honey (Faye Kellerman)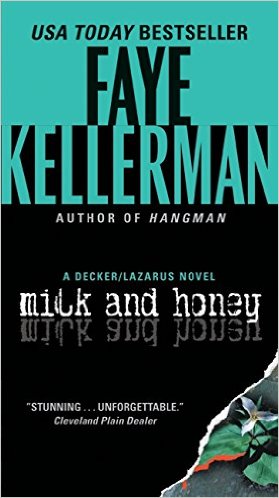 Milk and Honey
by
Faye Kellerman
Series:
Decker & Lazarus #03
Published by
Harper
on January 25th 2011
Genres:
police procedural
Pages:
528


In the silent pre-dawn city hours—alone with his thoughts about Rina Lazarus, the woman he loves, three thousand miles away in New York—LAPD detective Peter Decker finds a small child, abandoned and covered with blood that is not her own. It is a sobering discovery, and a perplexing one, for nobody in the development where she was found steps forward to claim the little girl.

Obsessed more deeply by this case than he imagined possible, Decker is determined to follow the scant clues to an answer. But his trail is leading him to a killing ground where four bodies lie still and lifeless. And by the time Rina returns, Peter Decker is already held fast in a sticky mass of hatred, passion, and murder—in a world where intense sweetness is accompanied by a deadly sting.
This series is a slow one for me, I only pick one up every once in a while. I still find them interesting, if a little dated. This one starts out with a small child that is found unsupervised in the middle of the night, which of course tugged at my heart strings. The child leads Decker to a murder mystery, and along the way he's also trying to clear a fellow Vietnam vet of some nasty charges.
The book jumped around a lot and just didn't leave much of an impression on me. Other than the small child involved, I didn't feel much for any of the perpetrators/victims in either plot line. Rina plays a very small part in the story, and seems to only be there as a recipient of some information about Decker's past. It wasn't weak enough for me to give up on the series, but I won't be rushing out to pick up the next one either.
Other reviews:
"Furthermore, what initially attracted me to the series, insight into the Ultra Orthodox Jews and the interaction with the outside world has been minimalized and really trivialized as most of it is now handled 'off-camera.'" — What I Really Think